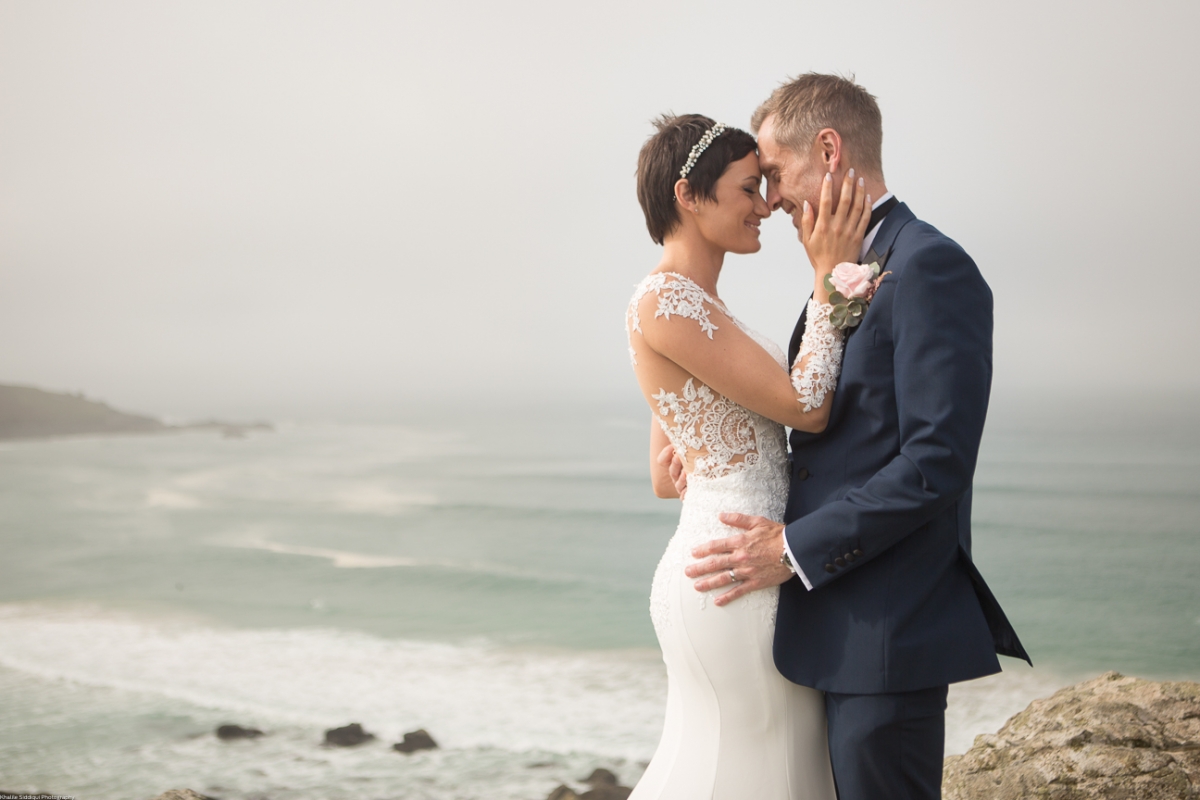 Carbis Bay Wedding - Laura & Anth
Share on Facebook Share on Twitter
3rd October, 2017
---
We both said how much we loved having you with us to capture our special day...you were like part of the family! Thank you so much for capturing our love so beautifully; we will treasure the pictures forever!


Laura and Anth got in contact with me about their intimate Carbis Bay Hotel wedding after receiving a recommendation. The wedding only had fifteen people attending in total, so having someone who could fit in was even more vital than a larger wedding, and I was only too pleased to be invited to be involved.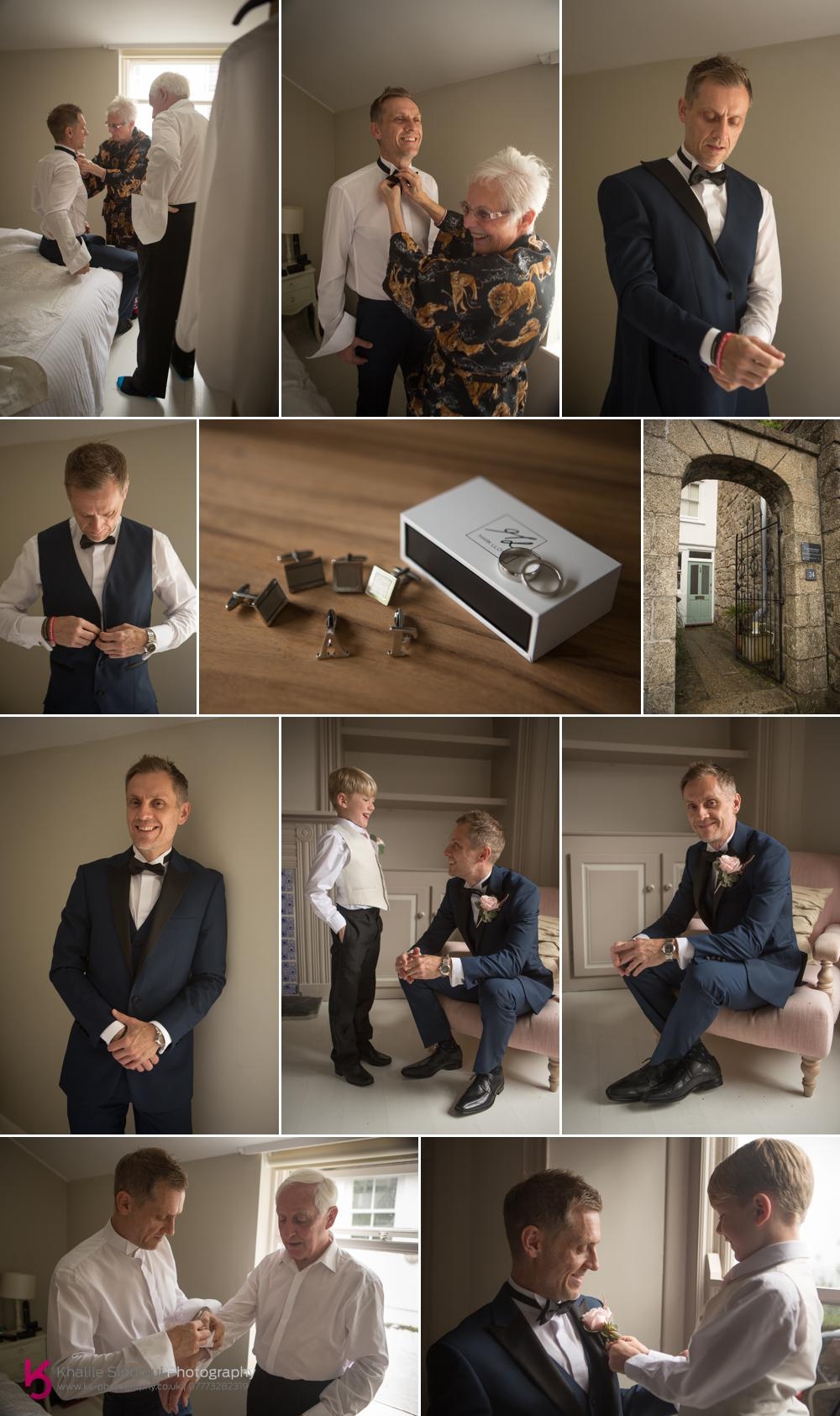 My day started with meeting Anth and his family at the house they were renting in St.Ives. It was such a beautiful old Georgian building full of handsome features and luscious light. Anth had his son and Laura son there getting ready with him, as well as his father Jim who was also his best man. I was touched by this, as in ten years this was only my third ever wedding where the groom has chosen his father as the best man. And luckily Anths mum Margaret was on had too with a bit of help from youtube to do Anth's bow tie.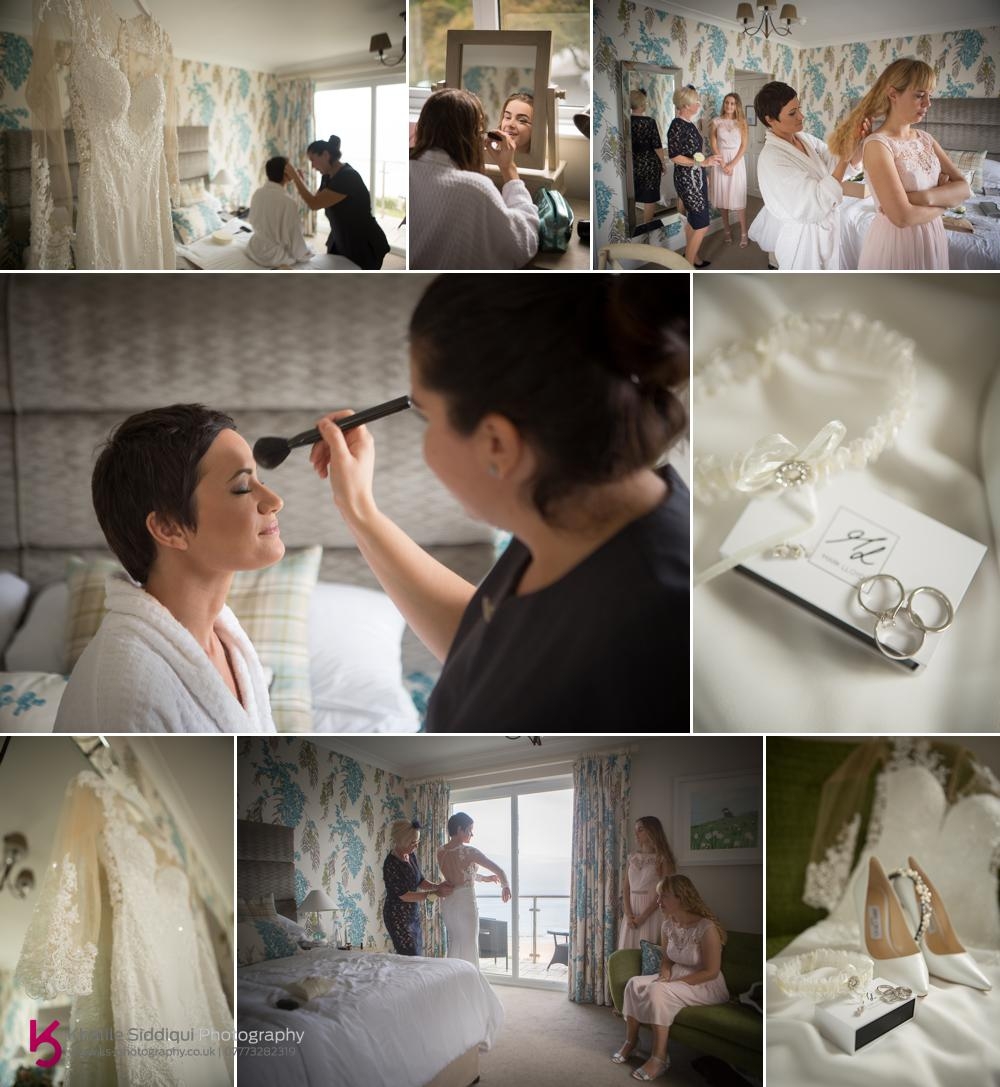 Laura was getting ready at Carbis Bay Hotel with her sister and Anth's daughter, the two bridesmaids. Before the wedding Laura confided in me that her sister was severely autistic, so don't worry if she doesn't want to interact. But on the day I was really heartened to see Naomi wanting to get involved and actually smiling during the ceremony :0)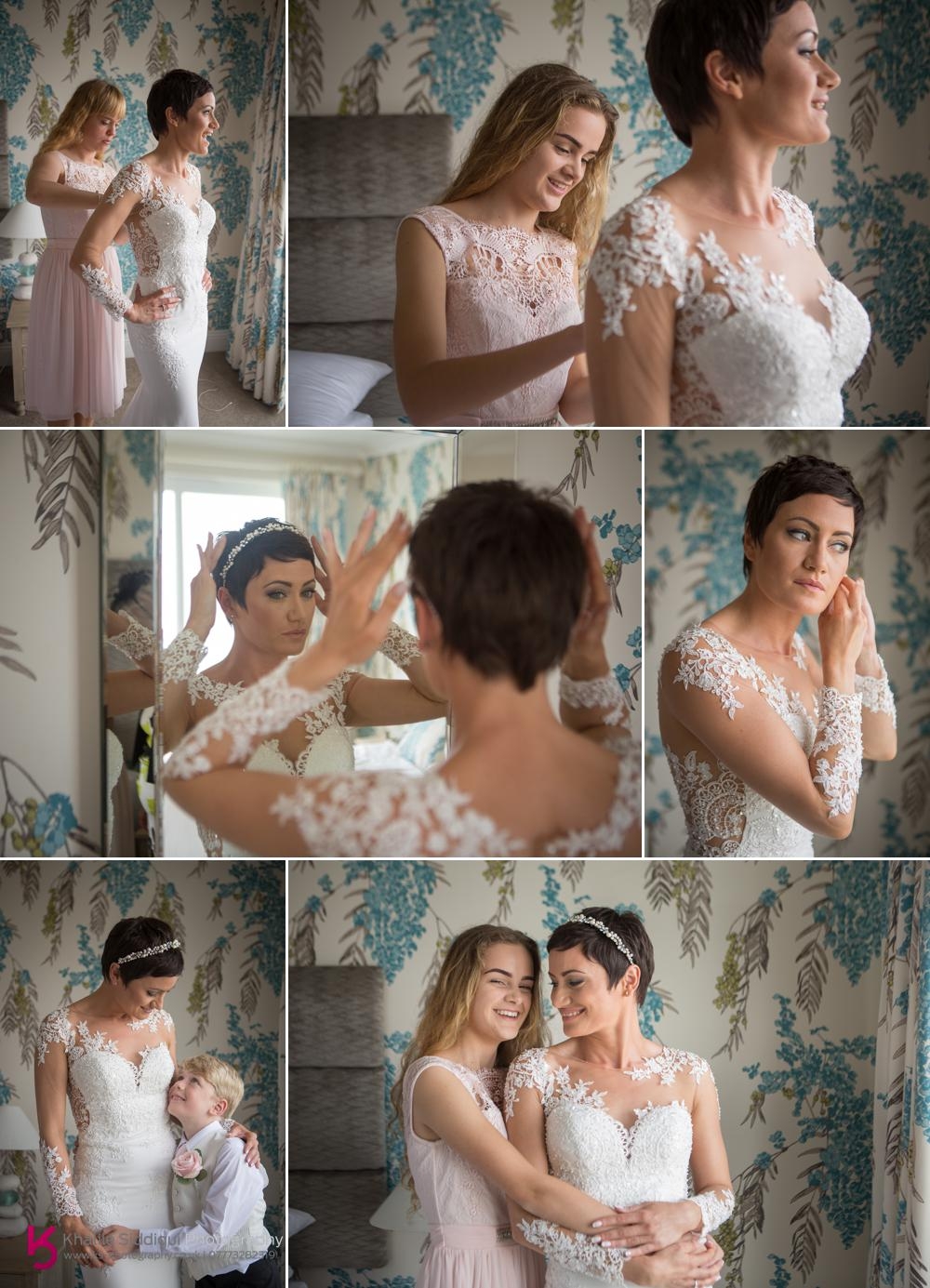 Laura bought her STUNNING gown from 'Joanne Kay' in Stokesley from near their home in Durham, with Jimmy Choo shoes and finished off her look with flowers from Wheal Sara in St Ives.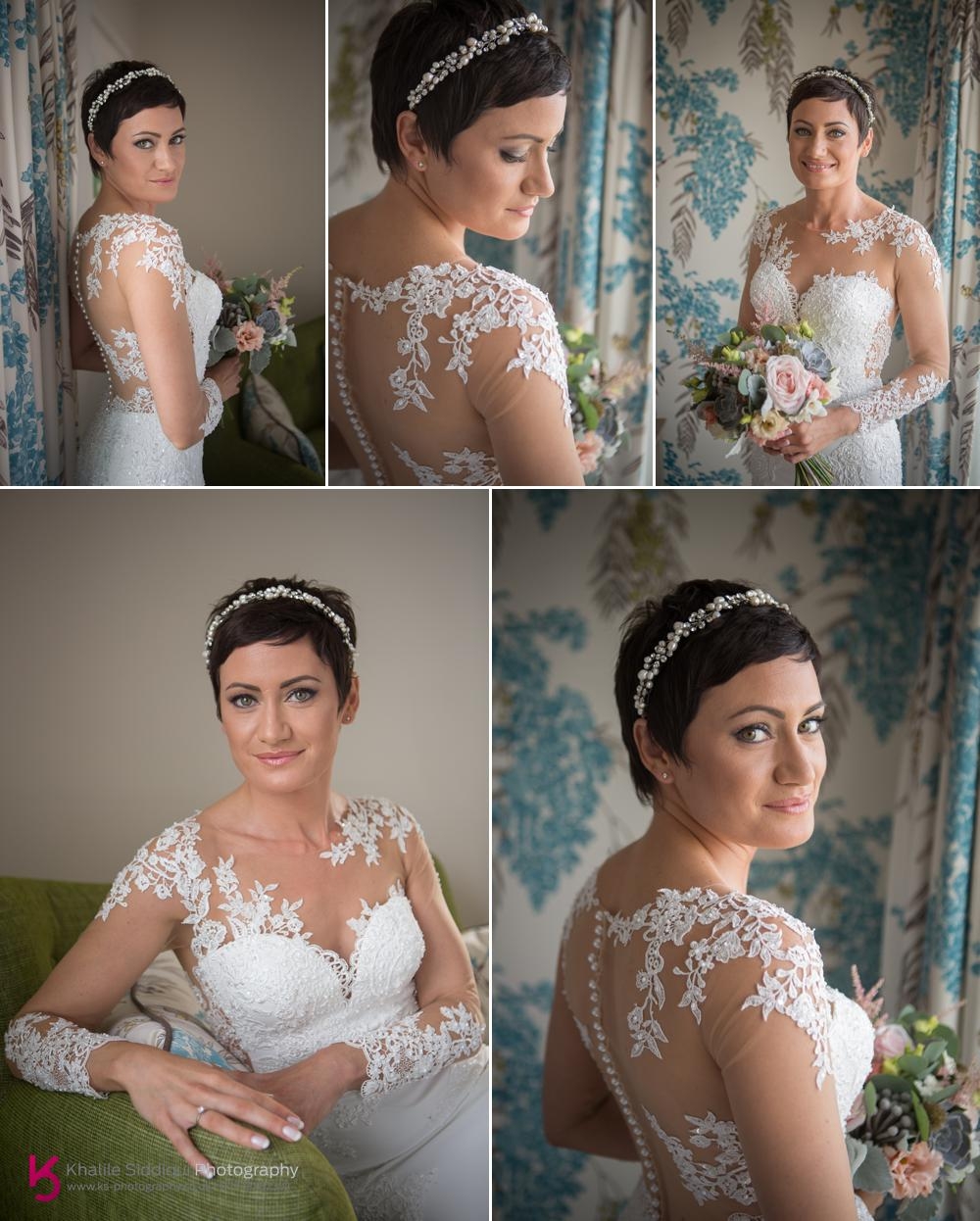 Laura had her friend Chris escort her to the ceremony which took place in the Godrevey Room, which is half conservatory with the far reaching sea views from the Godrevey lighthouse round to the St.Ives bay. It was a very emotional ceremony mixed with both tears and laughter.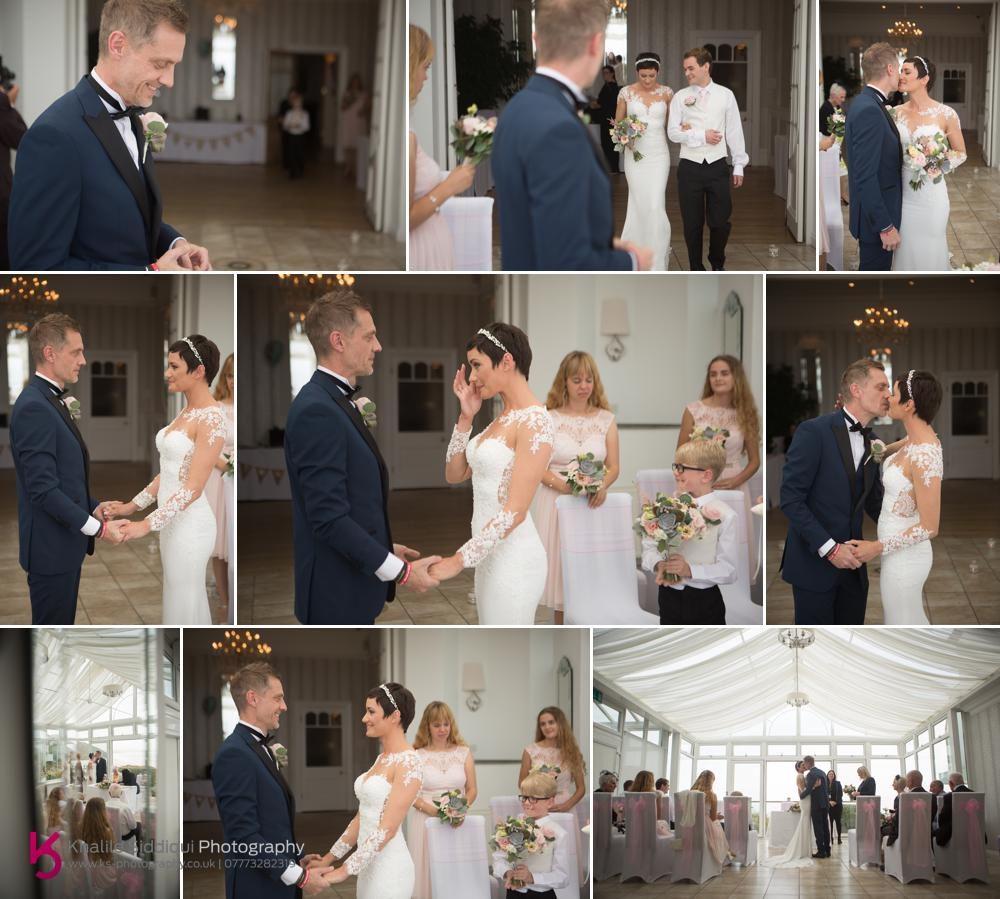 After the ceremony we took whoever wanted to join us down onto the beach for a few photos, so of course their three attending children were keen to get sand in their toes :0)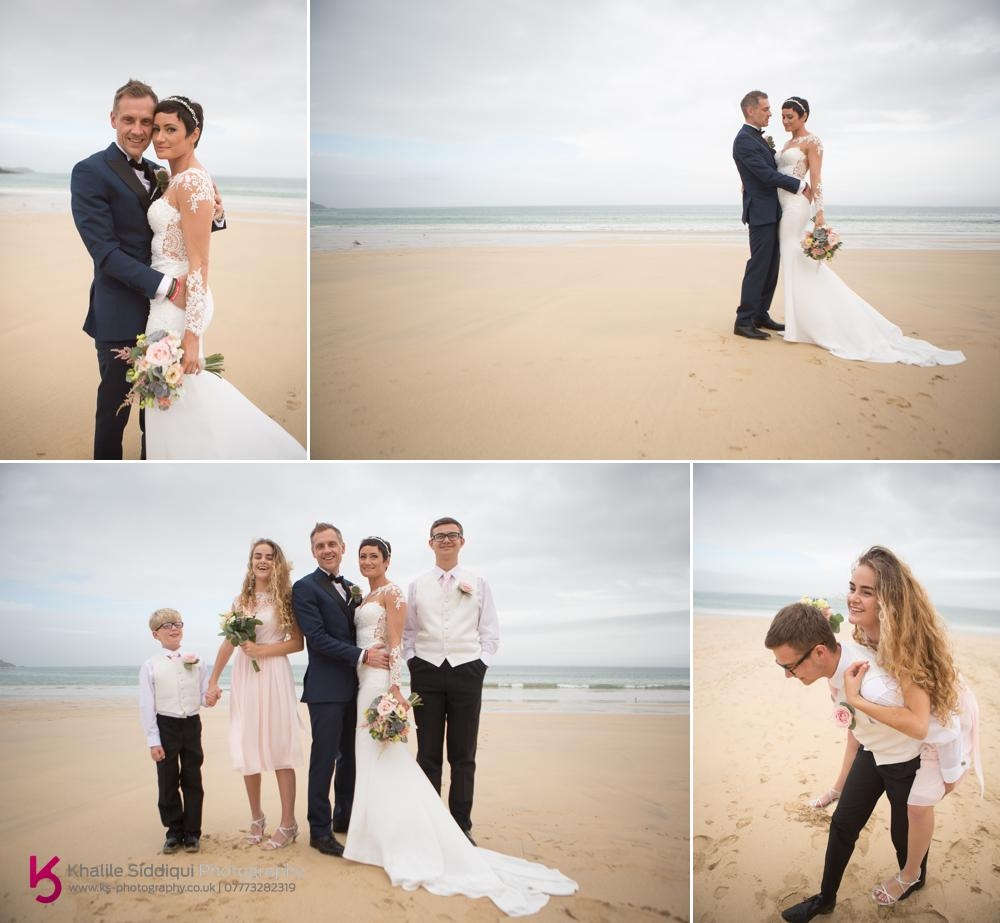 We didn't have long on the beach as Laura and Anth had arranged for a blessing in the tiny chapel on the Island (The big hill in central St Ives). Laura had grown up from a little girl enjoying long family holidays in St Ives in the summer, as both of Laura's parents are teachers, so Laura has many happy memories there, so the location of this blessing held a lot of meaning for her.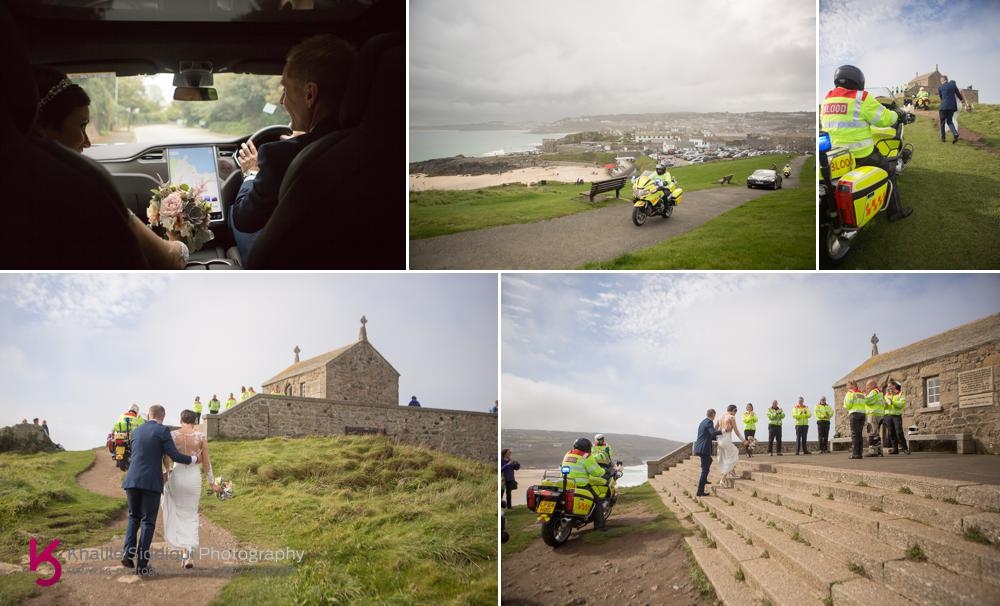 When we arrived we were greeted by a Cornwall Blood Bikes escort, as four years ago Laura was fifteen minutes from dying and was only saved by the fast response of a Blood Bike which made the journey with the right blood type for her. Had she have been reliant on a four wheeled transfer of the blood it wouldn't have made it in time to save her. Since then, both Laura and Anth have become trustees of the Blood Bikes in their area, and as you can imagine they hold a lot of significance for them both. So Laura got in contact with the Cornwall branch asking if it would be possible for a representative to be at their Island Chapel blessing. And BOY did the Cornwall team rise to the occasion, they didn't send one bike, they sent three and had 24 of their volunteers form an escort and guard of honour for Laura and Anth, with some of them travelling up to seventy miles to be there!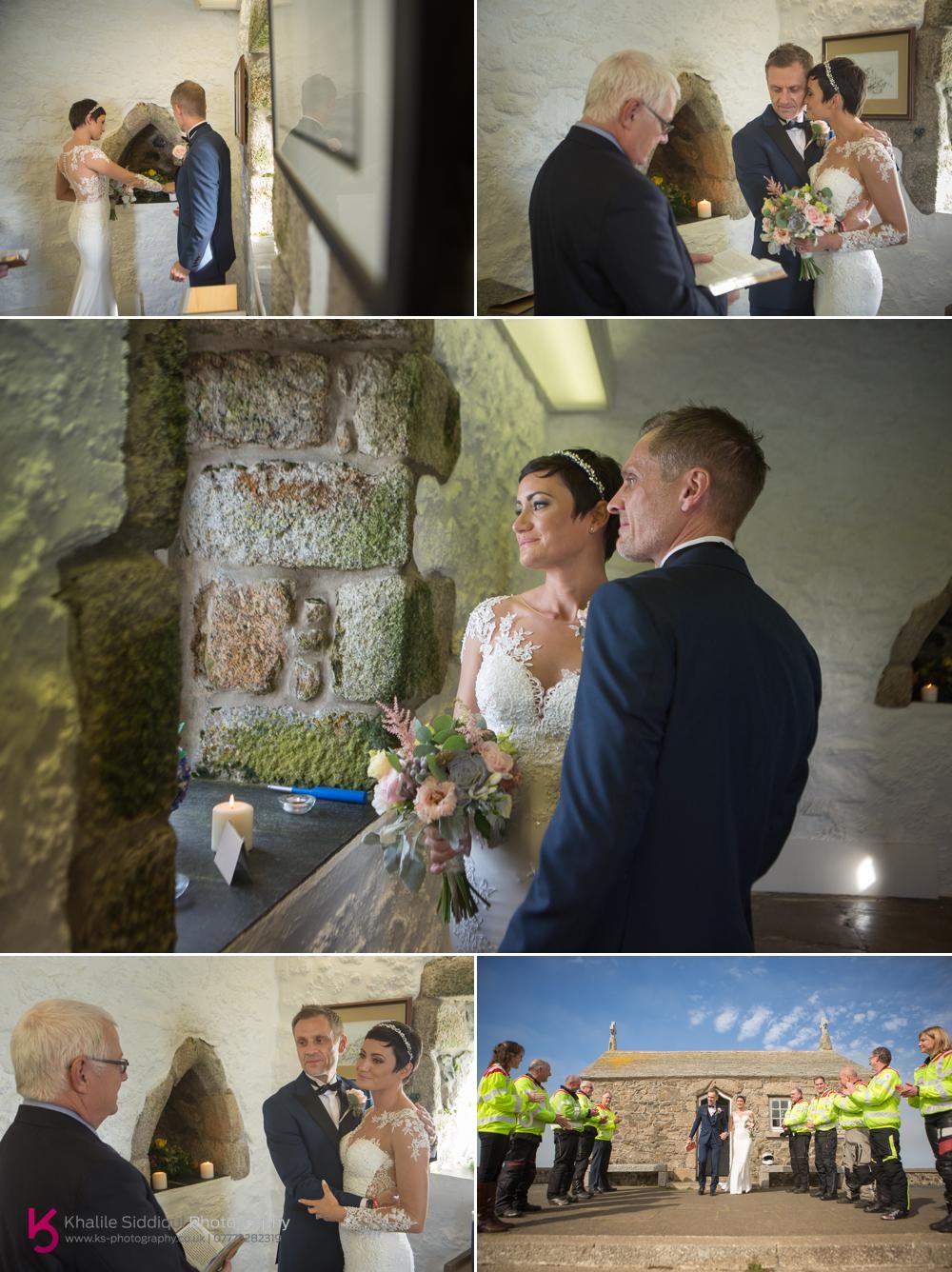 The blessing was a VERY intimate affair with only Laura, Anth, the priest and myself. Laura and Anth wrote their own vows to each other and lit a candle for their son who couldn't be with them.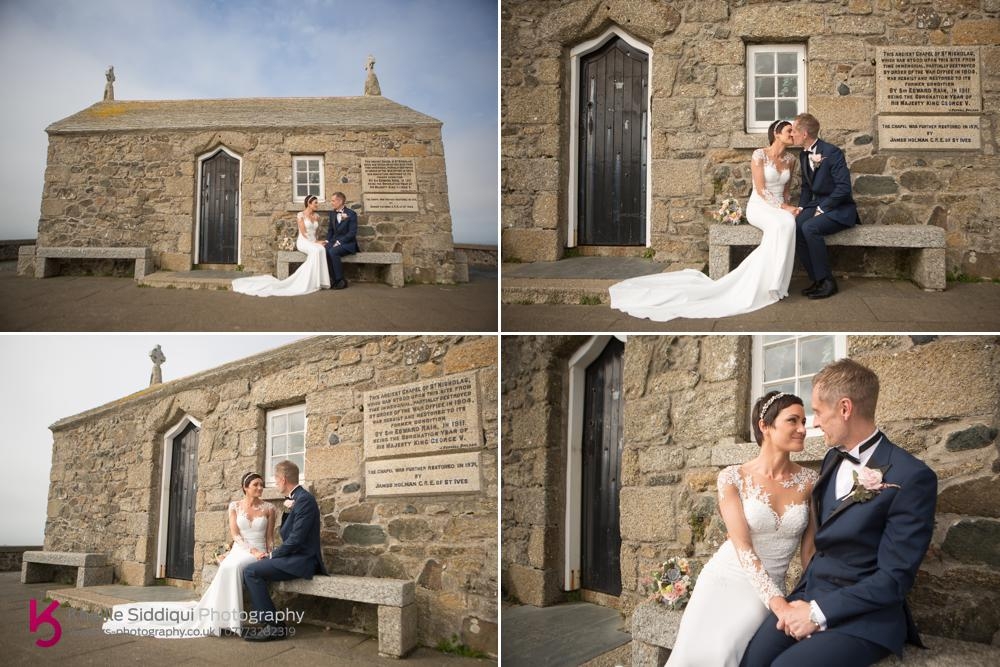 After the blessing we started a little photo shoot session journey starting with the chapel that holds so much meaning for Laura (Thanks for the lighting assistance Jayne of Cornwall Blood Bikes!) .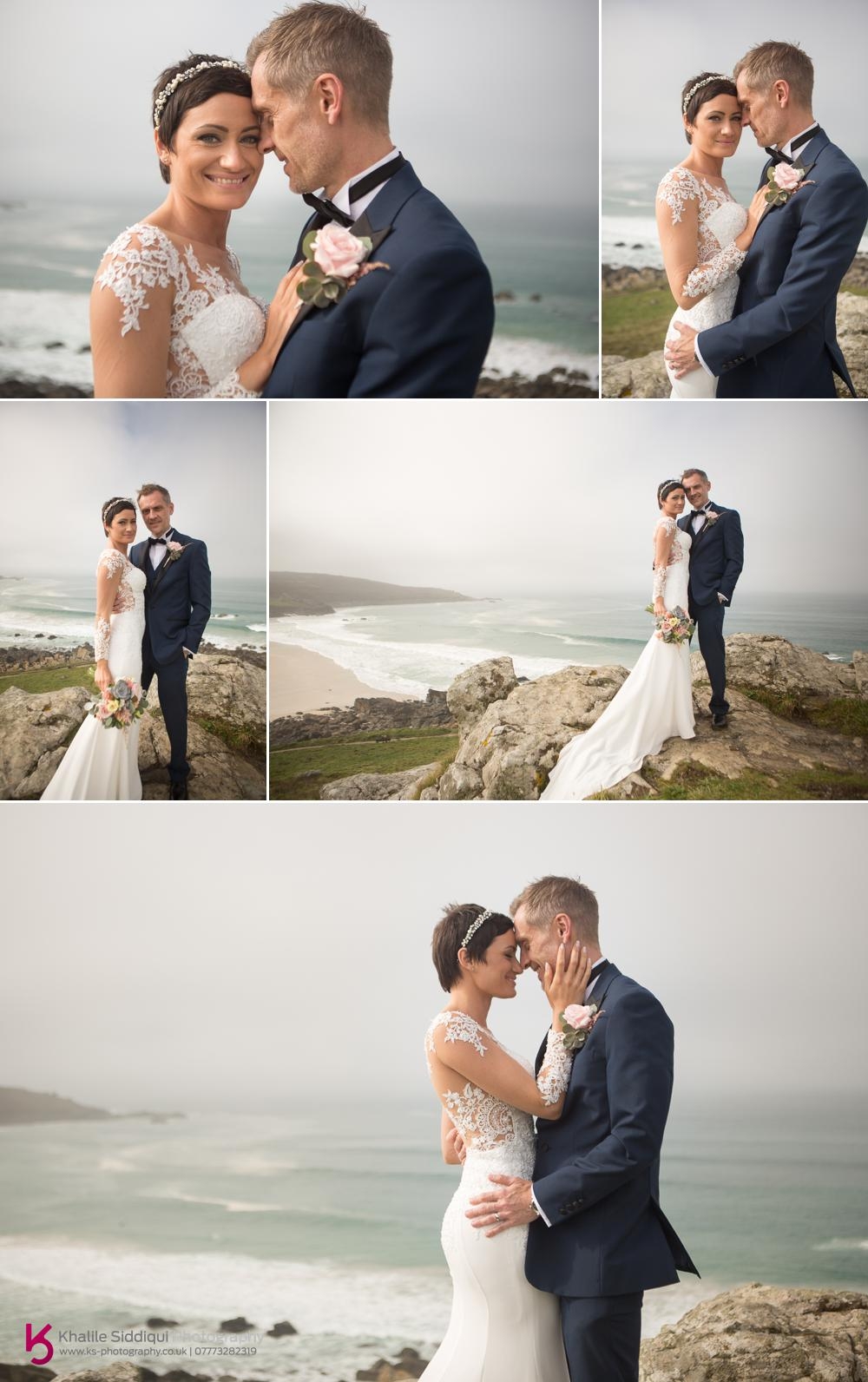 Moving to the clifftop with the views of St Ives surfing beach, Porthmeor.

Before we even had the chance to meet Anth sent me a photo taken near this location, asking if they could get a photo similar to the one he'd sent, to which I responded 'If that's the best I get I'll be REALLY disappointed in myself!' Well Anth I hope you and Laura aren't disappointed.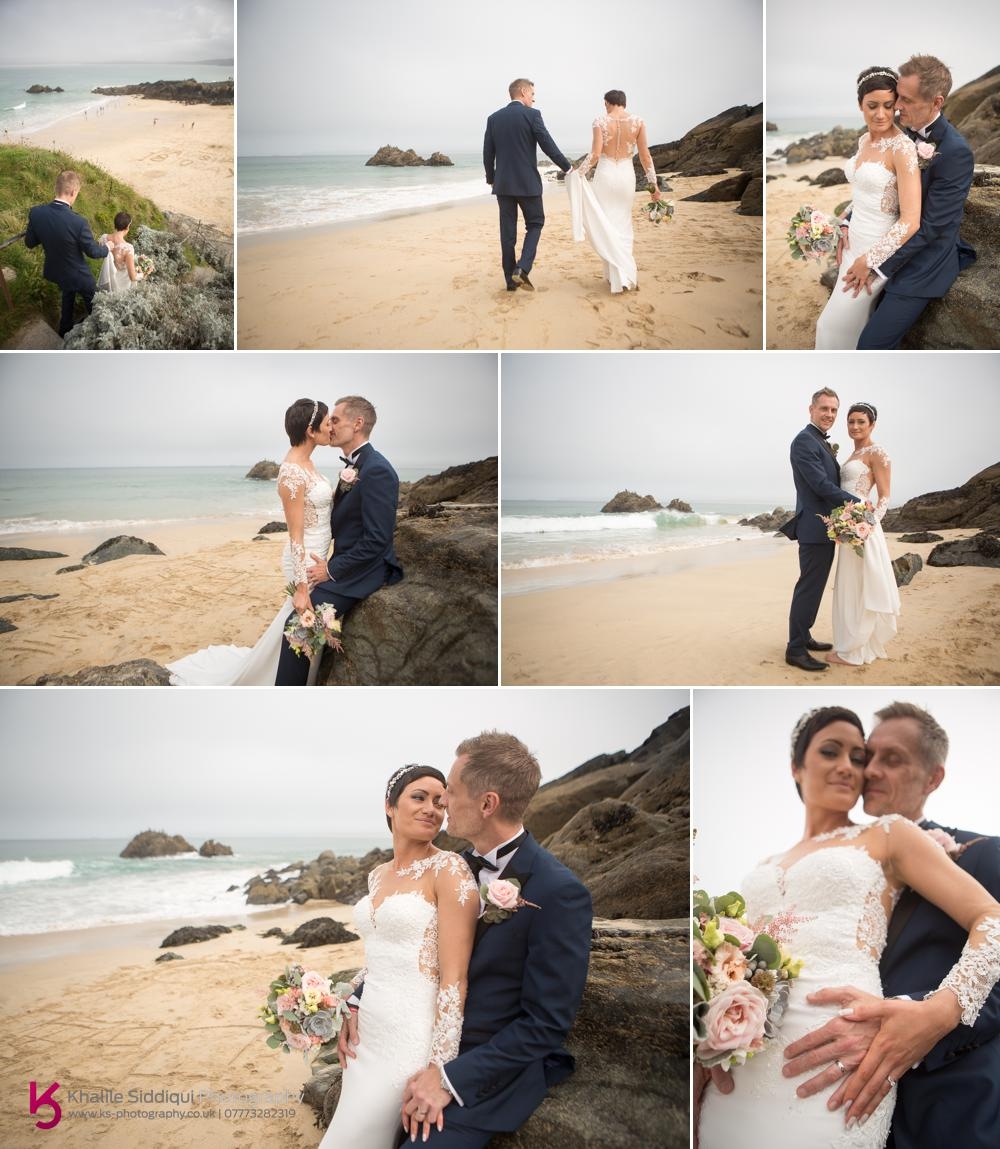 We then went down onto Porthgwidden beach where Laura's family have had a beech hut for many years, so again we went on another memory collecting/creating shoot.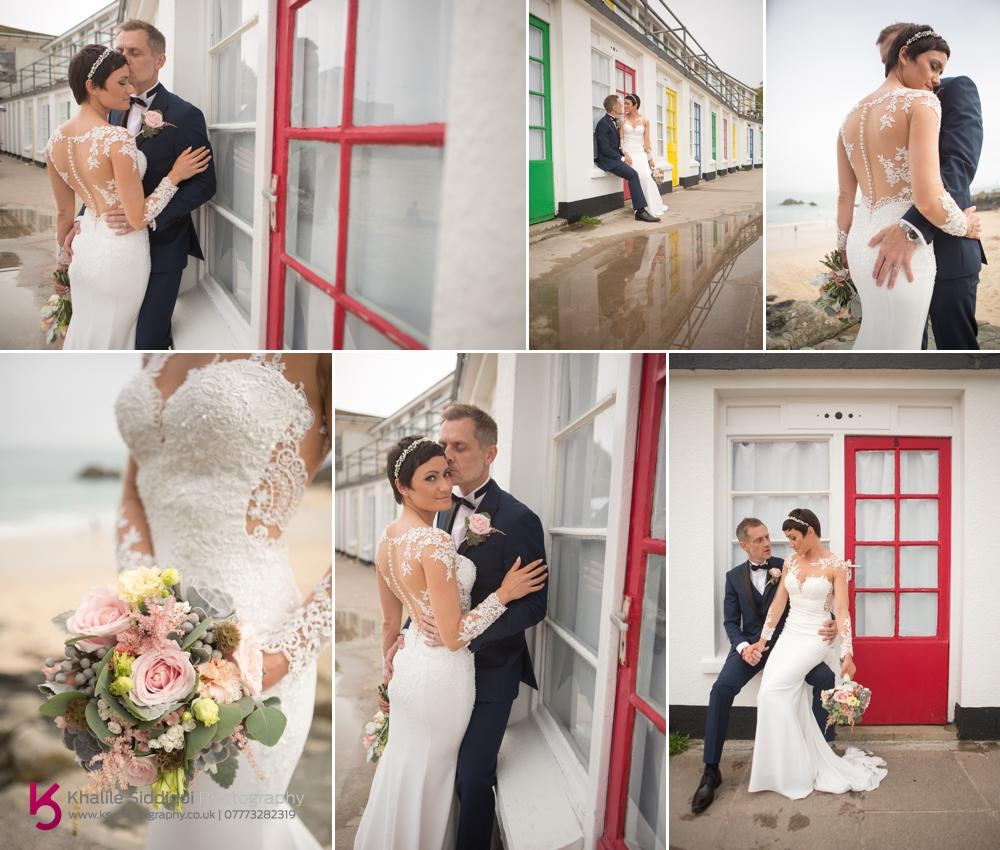 When we went back to get the car up on the hill the light falling on the chapel and car was beautiful, so I couldn't help myself but to get a few more.





Finally we headed back to the hotel for their wedding breakfast back in the Godrevey Room.




Dearest Laura and Anth, thank you so much for asking me to be part of your intimate wedding, I LOVED it and our little road trip!

If you're planning your own wedding whether its big or small, please do get in contact as we do travel and would love to be involved. Check out our weddings page and please do make an enquiry.

Love Kx

Suppliers:
Venue - Carbis Bay Hotel
Dress - Joanne Kay in Stokesley
Escort - Cornwall Blood Bikes
Flowers - Wheal Sara
Rings - Mobeous the jeweller
Suit - Review Menswear