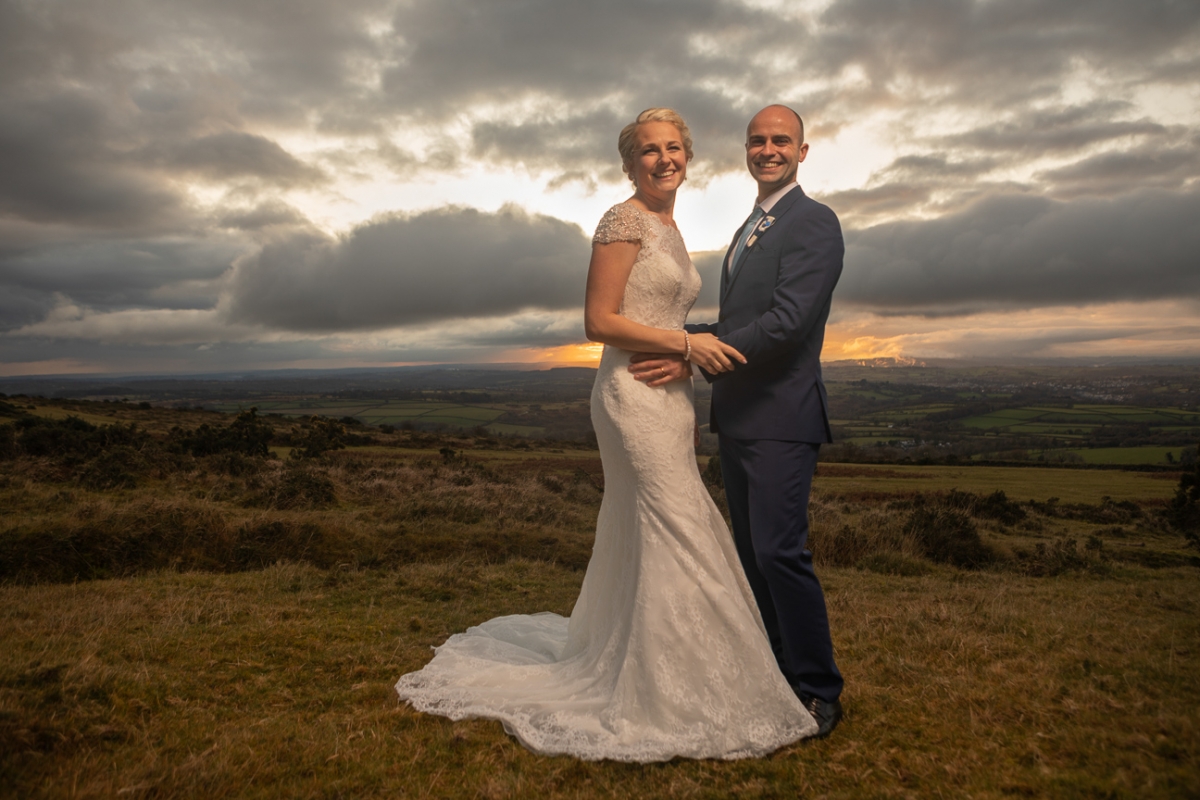 Two Bridges Hotel Wedding Photographer - Lisa & Richard
Share on Facebook Share on Twitter
16th December, 2019
---
We knew from the way he spoke and the passion he had about photography that our photos would be perfect. In fact, they are better than we ever anticipated. I will forever be grateful that I have these beautiful memories, thanks to Khalile. X


I've been so excited about being Lisa and Richard's Two Bridges Hotel wedding photographer for a couple of years now. I'd only ever been to Two Bridges Hotel on Dartmoor in Devon once before years ago, so went there with Lisa about a month before the big day to have a proper look around and get to know my happy couple a bit better, but sadly Richard couldn't make it due to work commitments.





After driving to The Two Bridges Hotel through the fog and rain of The Dartmoor National Park admiring the majestic beauty I arrived at my destination. The hotel is an old coaching house and has all the elegant country charm that you'd expect from a hotel of this period in such beautiful surroundings.





On arrival I made my way to meet Richard getting ready with his father and son. I'm always a little apprehensive meeting a groom for the first time on a wedding day, not that it ever happens much, but I had absolutely no reason to have concern, he might have cropped hair and be ex-military but what a lovely fella!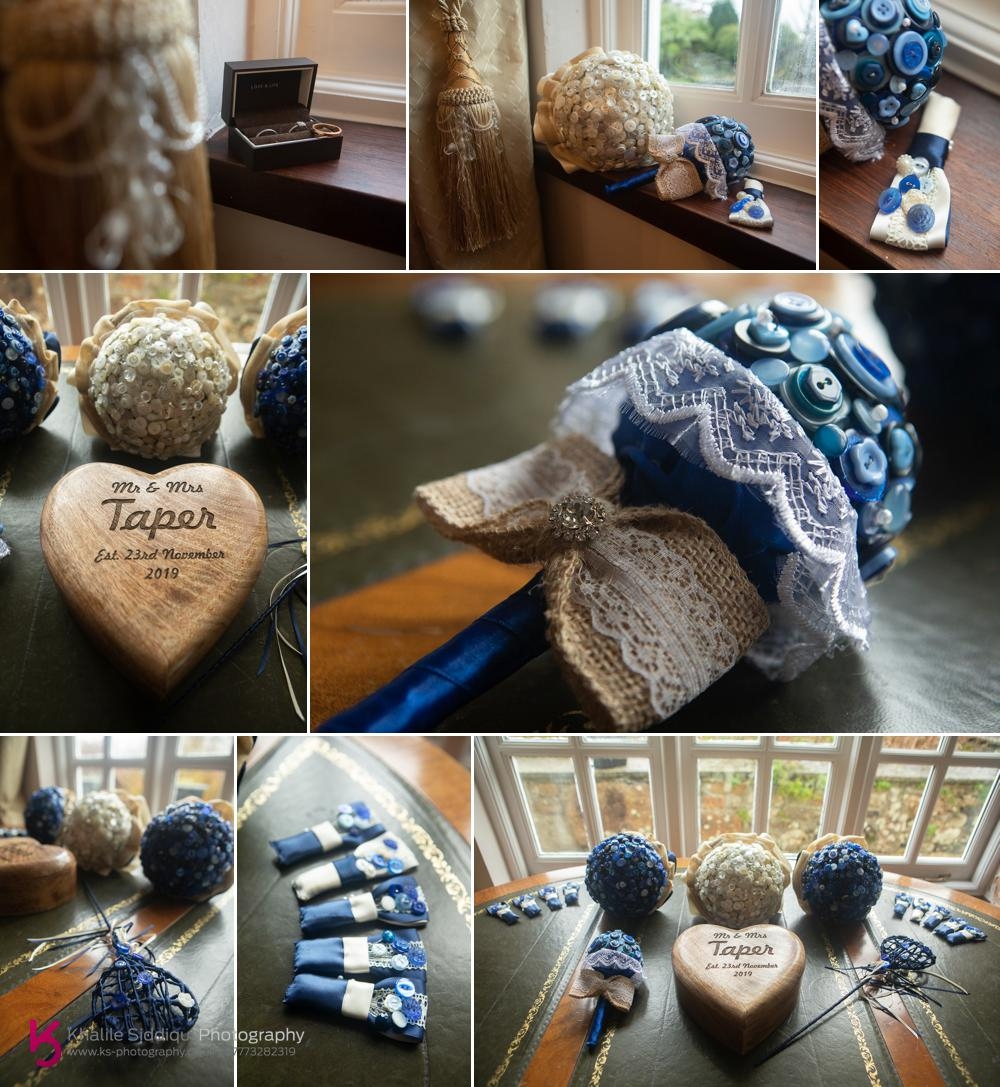 Both Lisa and Richard were getting ready at the hotel, and so I didn't have far to go to find the girls. Lisa was getting the finishing touches to her makeup when I arrived and while we were waiting for the mums to arrive to help her get into her dress I got some photos of some of Lisa's details, like her dress that she bought from 'Bliss Bridal' in their home town of Newquay. And instead of traditional blooms for her bouquet Lisa opted for bouquets made from buttons by 'For The Love Of Buttons' that Lisa came across on a wedding open day at the hotel along with the heart shaped wand. Then Lisa made the little bouquet for their daughter incase their little one wanted one like mummy's.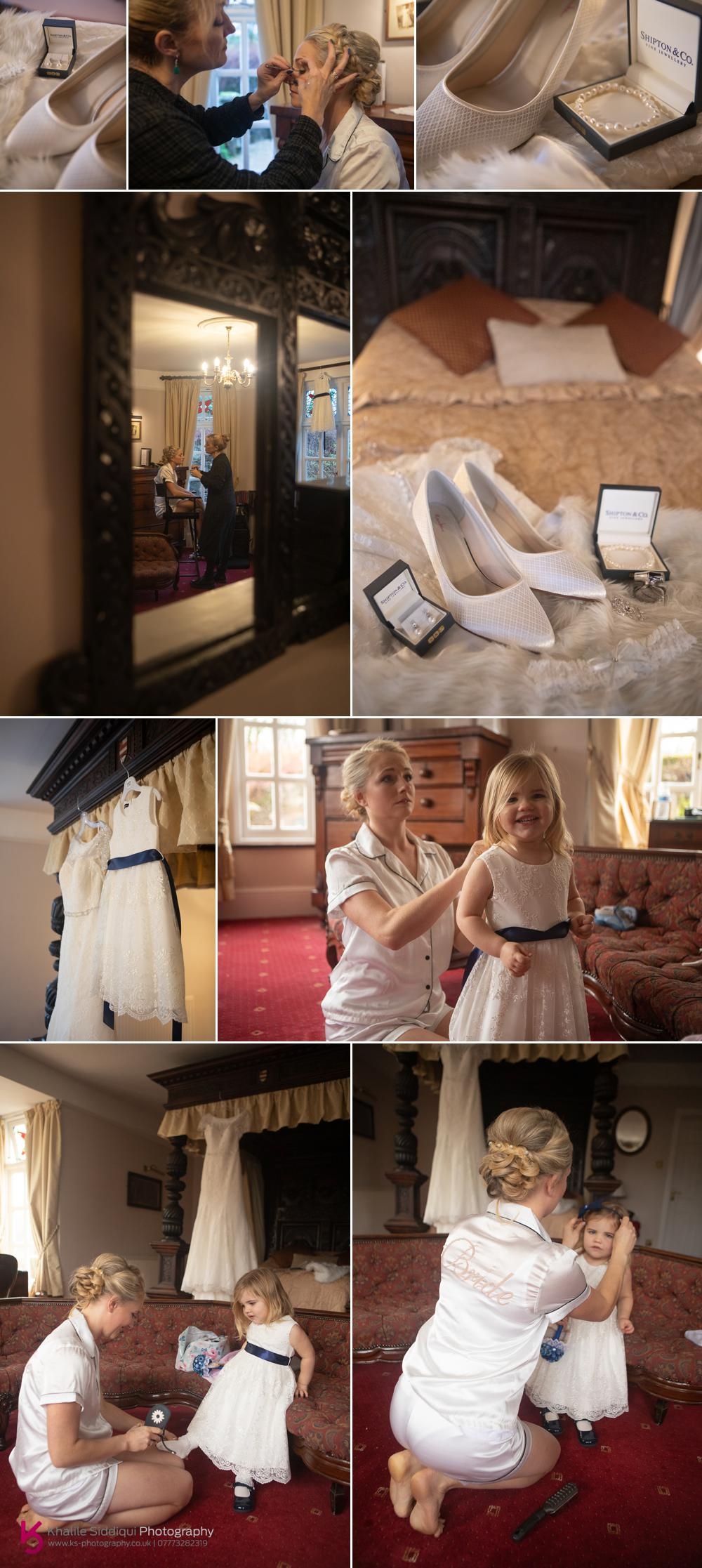 After Lisa had got her little princess into her dress it was her turn, helped by the mums.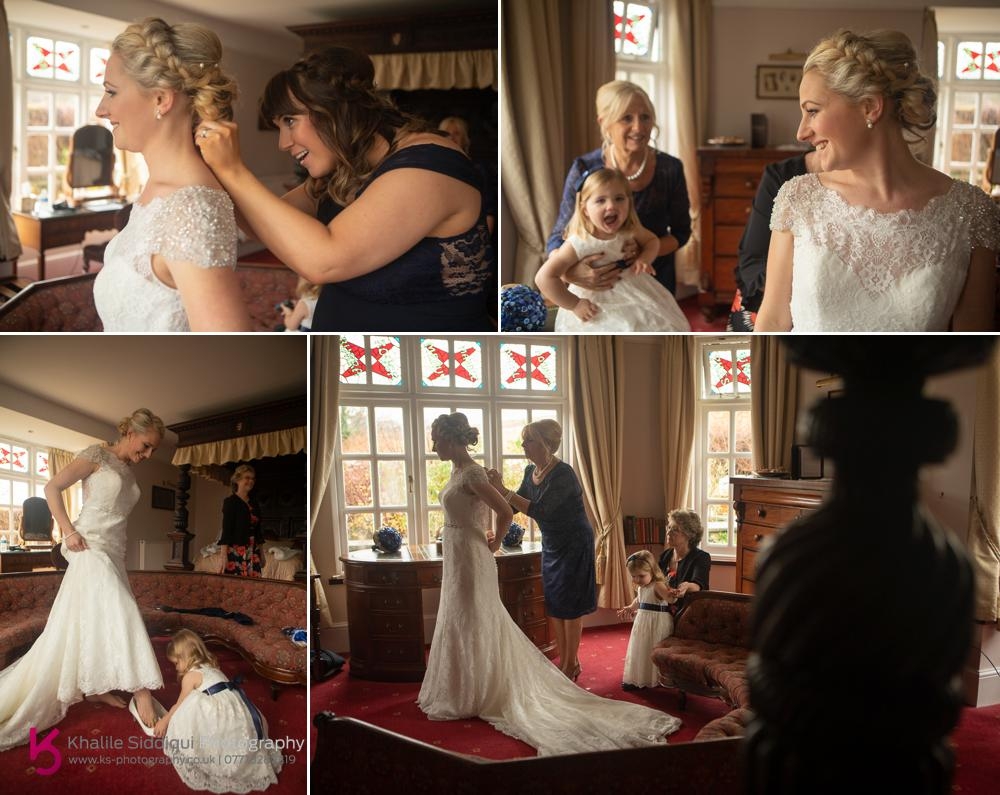 Oh, and their daughter too of course. Then we made the most of the time we had to get some family photos before it was time the ceremony.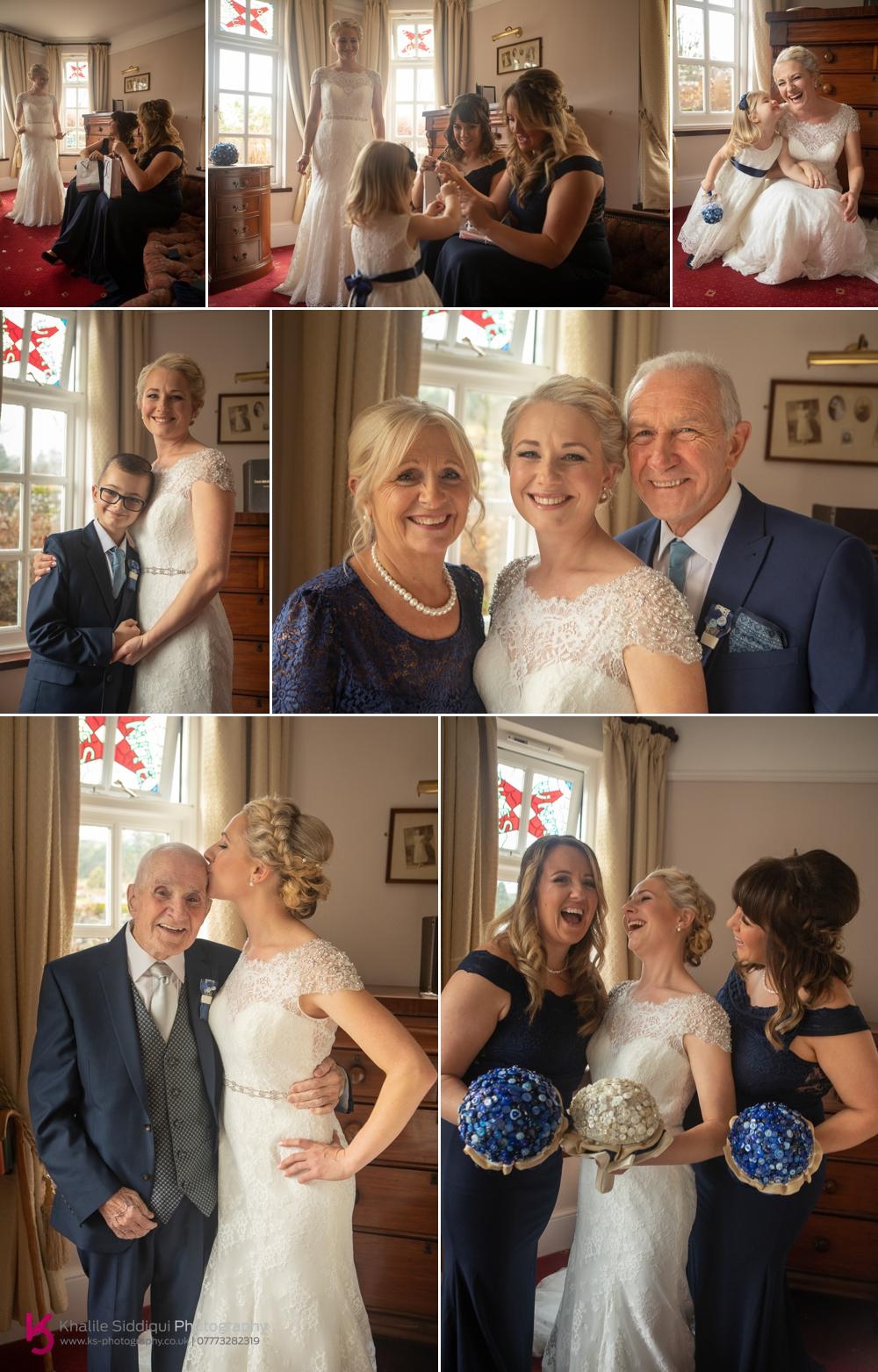 I'm pleased to say in twelve years I've never had an ugly bride or bridezilla, but I thought Lisa look exceptionally stunning, and she was such a laid back bride.





The hotel can perform wedding ceremonies outside on the lawns by the river but as this was a winter wedding they opted for the indoor option in the beautiful gentrified dining room.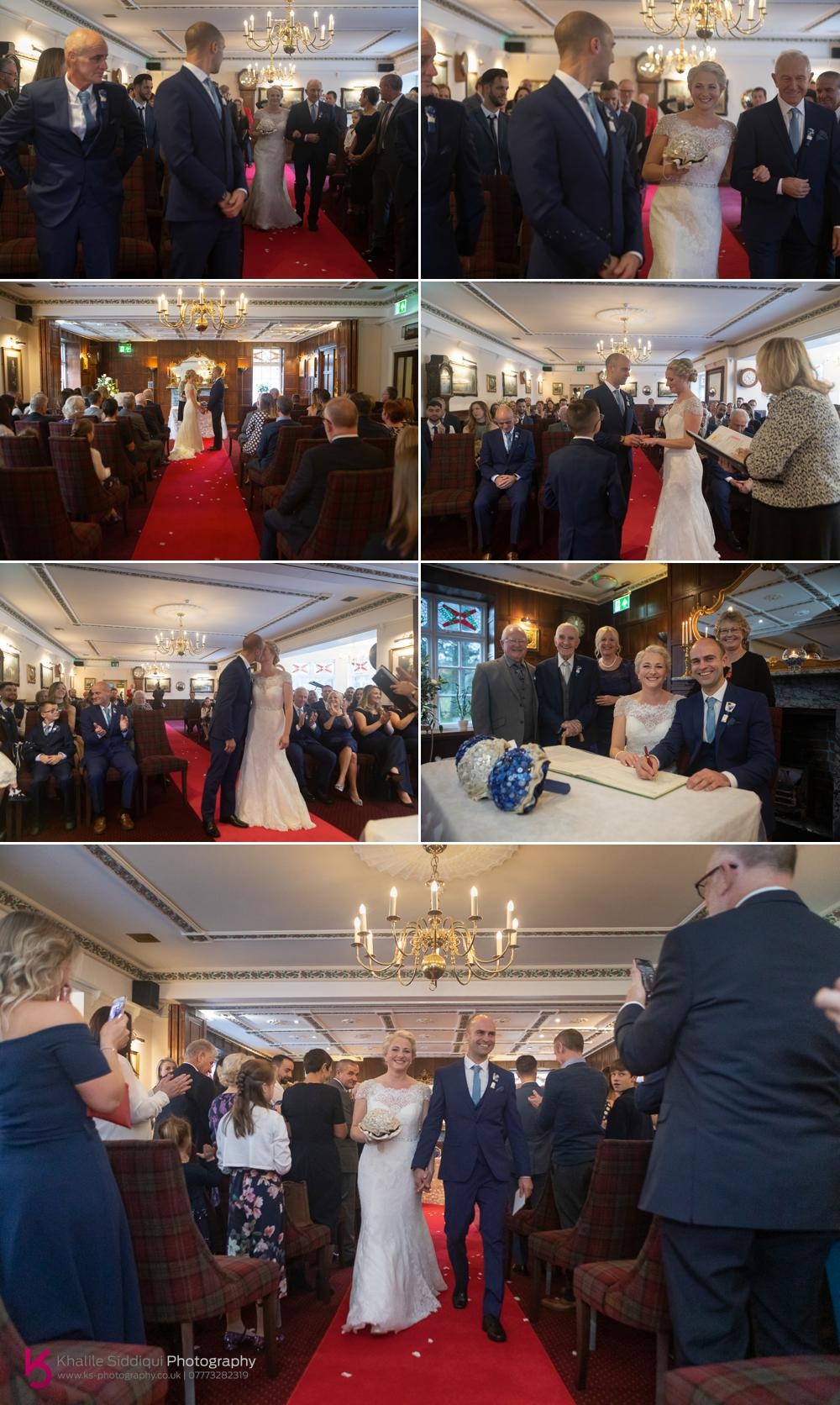 The weather was looking shaky after the ceremony, but we still managed to get the entire wedding party outside for a group photo of everyone by the bridge (A Two Bridges Tradition). There might have not been any leaves on the trees but I loved the wintery mist and autumnal colours.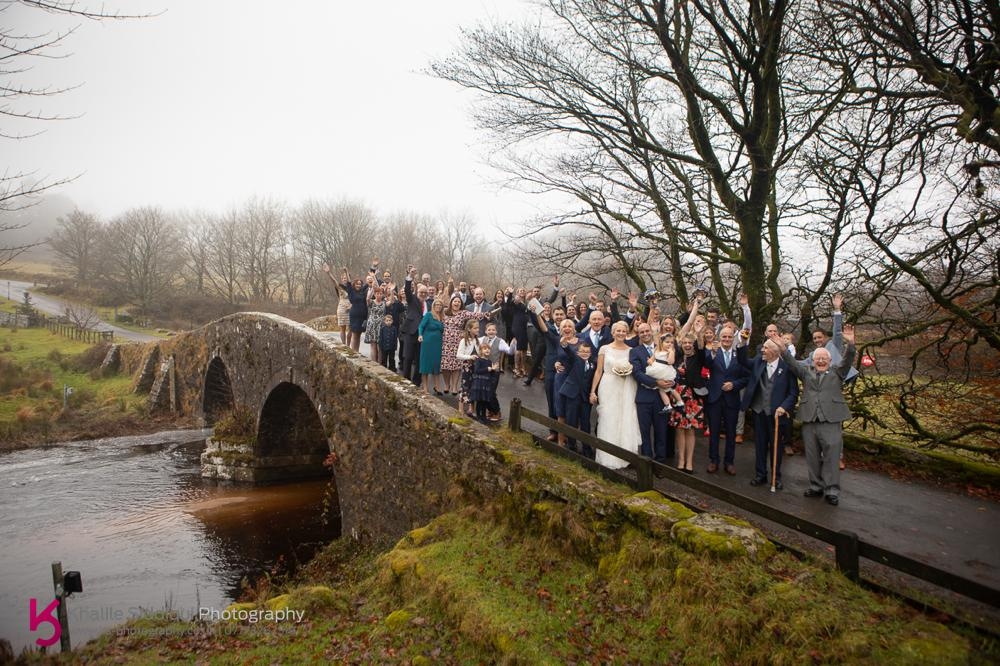 Then we got everyone inside for drinks and a few group photos.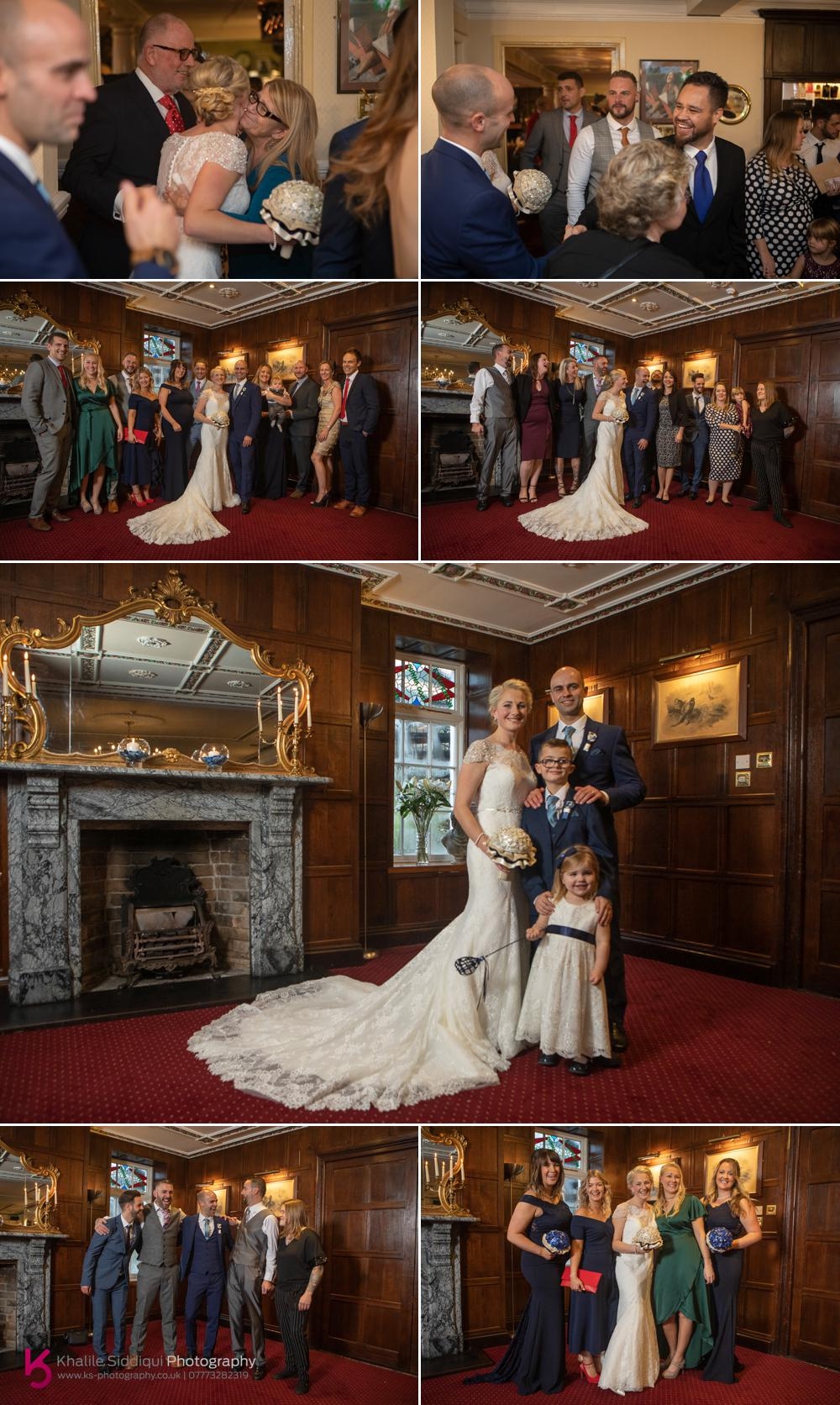 But we also made sure we had time to get some couple shots on Lisa & Rich's beloved moor while it was still light.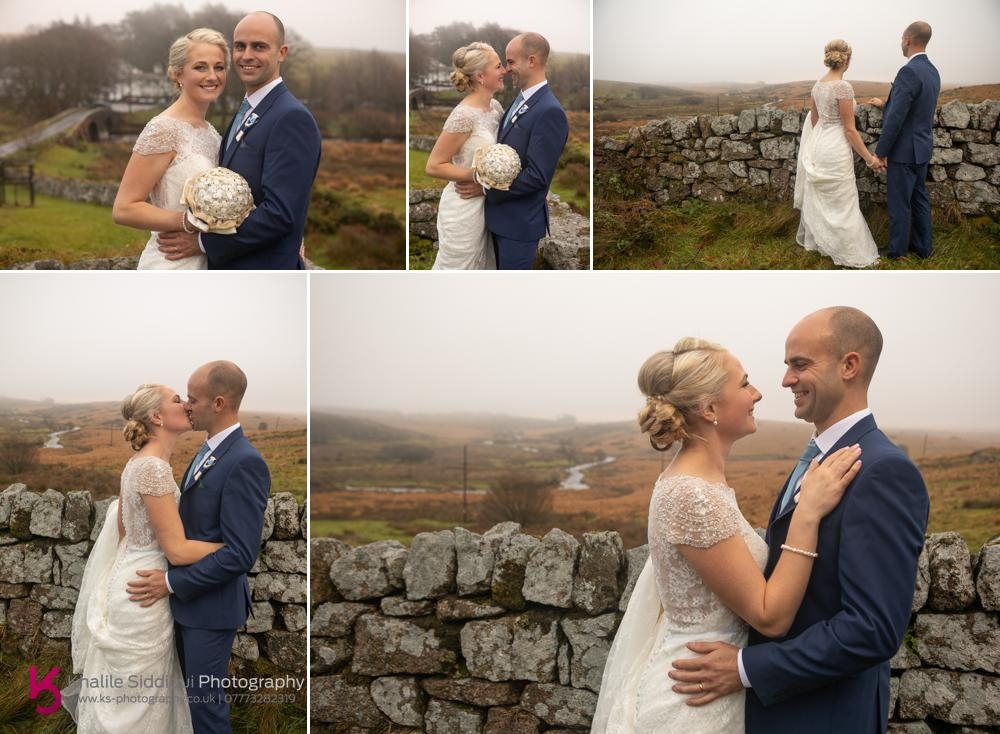 We got some by the hotel and some from a favourite view point about ten minutes drive from the hotel. As we left the hotel the fog REALLY came down severely hindering visibility, I did wonder if we might have been wasting our time but hoped for the best and traveled anyway. As we came over the last hill I couldn't believe my luck, it looked like some biblical painting of Plymouth on fire.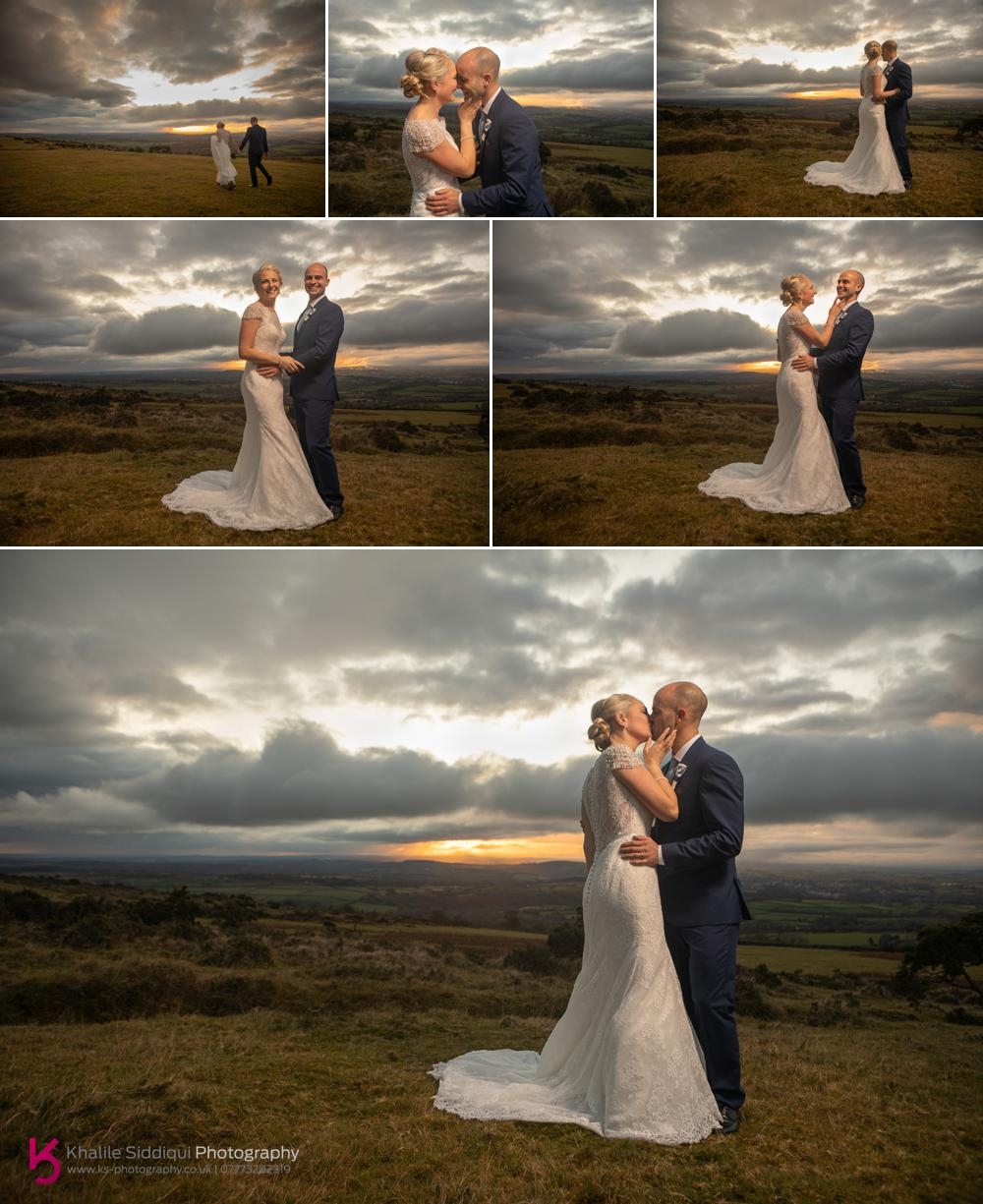 By the time we returned it was time for the wedding breakfast followed by just two speeches, Richard couldn't choose between all his friends as to who to have as groomsmen, so he got off lightly at the end of the speeches having no best man.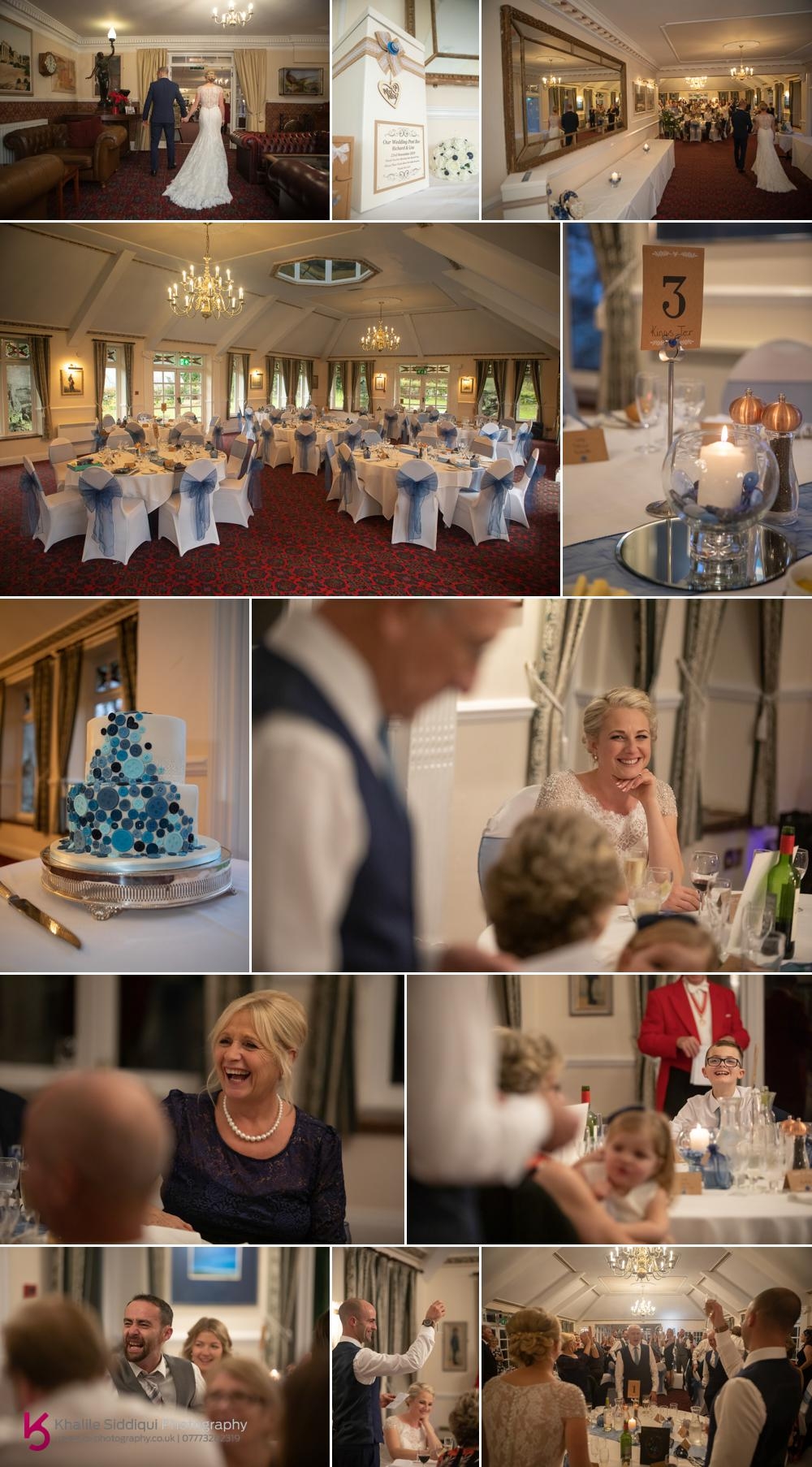 After the wedding breakfast it was back into the music room for drinks and a chinwag before the start of the evening partying.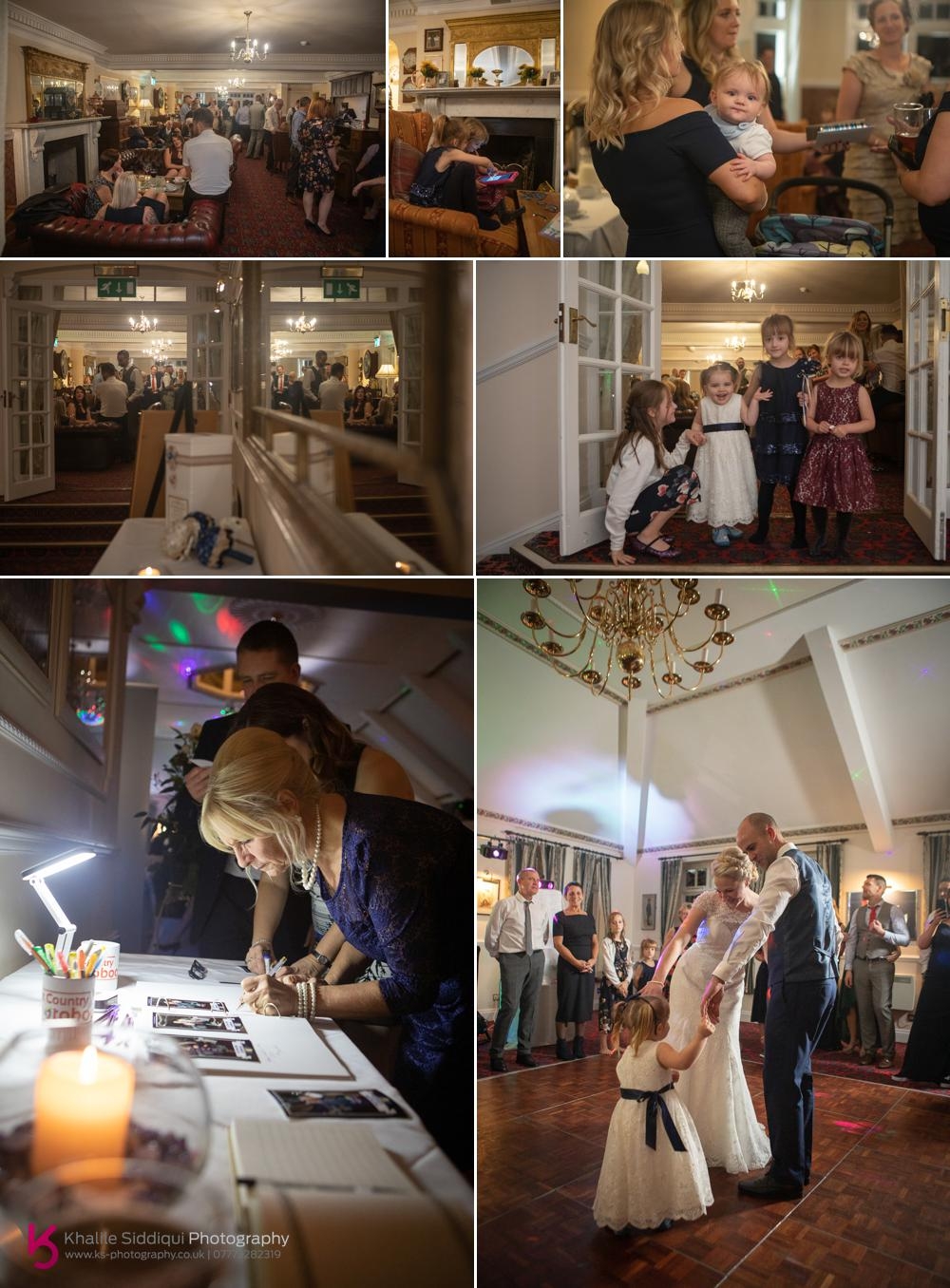 Dearest Lisa & Richard, thank you so much for choosing me to capture your greatest day. I'll most definitely won't forget it for many reasons, and I wish you all a long and happy life together.

If you're planning your own wedding, be it big or small, home or away, please do check out my main weddings page for loads of helpful information to consider when booking your wedding photographer.

Big love

Khalile xx

Suppliers:

Venue - Two Bridges Hotel
Hair - Lauren Gillings
Flowers - For the Love of Buttons
Dress - Bliss Bridal
Cake - Claire Makes Cakes
DJ - Richards Time Machine
Makeup - Tamsyn Siddiqui