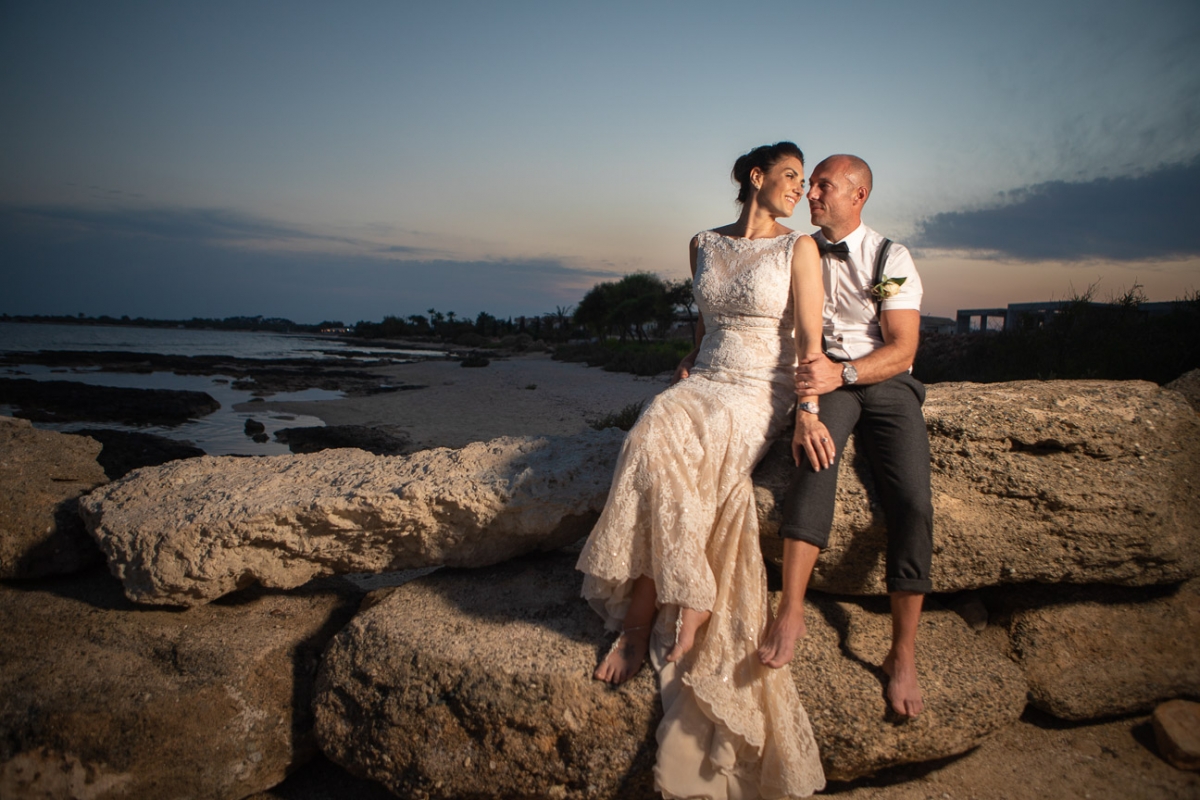 Destination Wedding in Aiya Napa Cyprus - Sophie and Colin
Share on Facebook Share on Twitter
5th November, 2018
---
 Thank you so so much Khalile, our photos are amazing and you were so much fun to have around on our very special day.


We've waited a LONG time to photograph this wedding, as since 2007 we've always wanted to photograph a destination wedding, and thanks to Sophie and Colin we were able to scratch another item off our bucket list by photographing their wedding at 'Thalassines Villas' just outside of Aiya Napa in Cyprus. Colin and I go way back as he was one of the first customers that came into our photolab and studio in Truro and sublet the office above our shop. Since then our paths have crossed often, always on happy social occasions. So when Sophie and Colin came enquiring about photographing their wedding and doing the makeup too I was chuffed to bits, but when they told me it was in Cyprus I had real trouble containing my excitement!!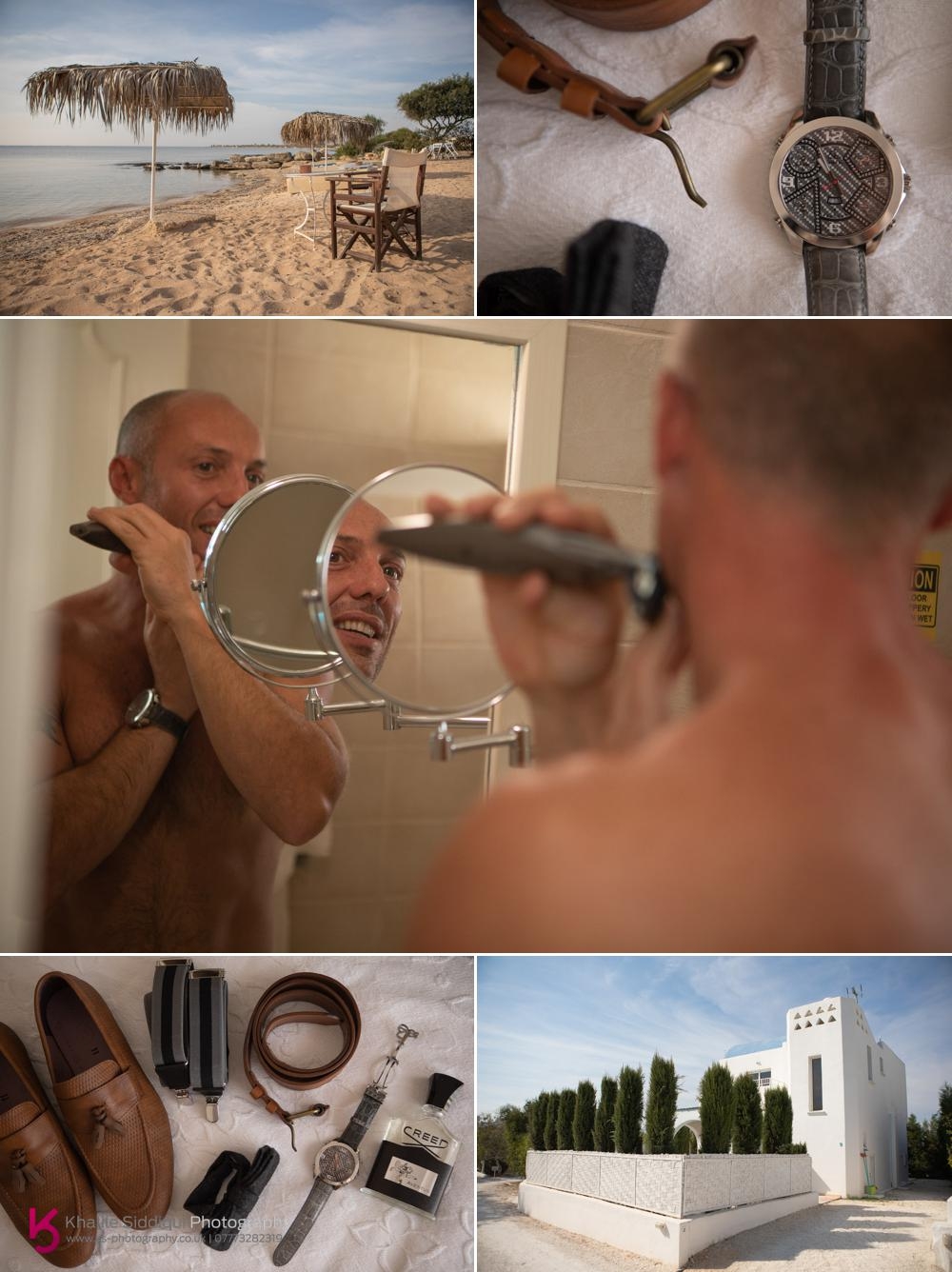 My day was to be rather a long one as my wife Tamsyn was doing Sophie and the girls makeup, and as there was no way we were going to hire two cars I headed in nice and early with Tamsyn and got a few scene setting shots before I went to find Colin and the boys, two of which were his sons.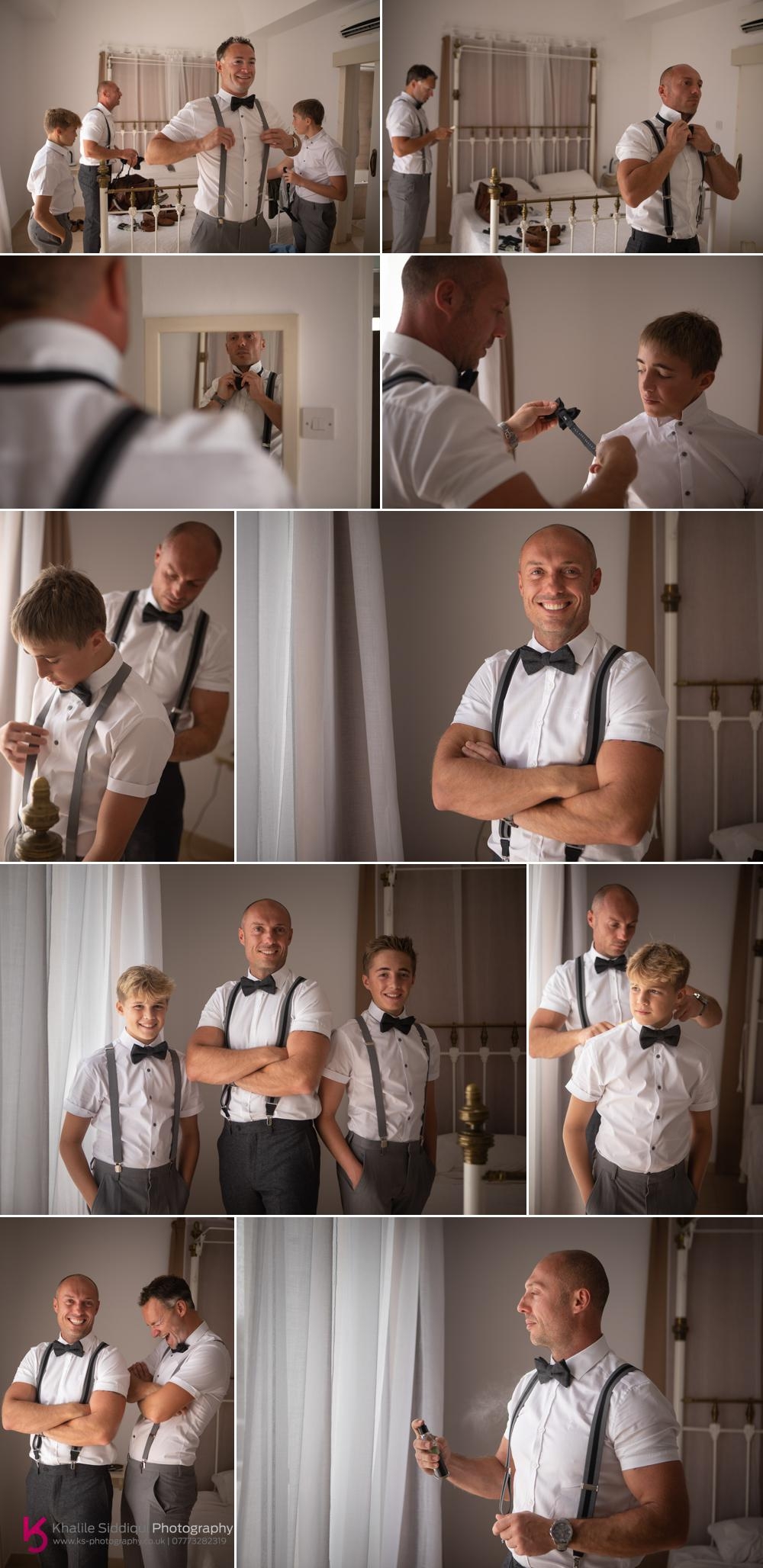 I found this beautiful spot to get the boys ready in with dreamy light but unfortunately it was in the best man Danny's room and so his poor girlfriend Rachael decided to vacate it while we got the boys into their outfits. I'm not sure how things are done in Manchester where Danny is from but he explained that he wasn't aware that I was coming and wasn't ready for our little photo session.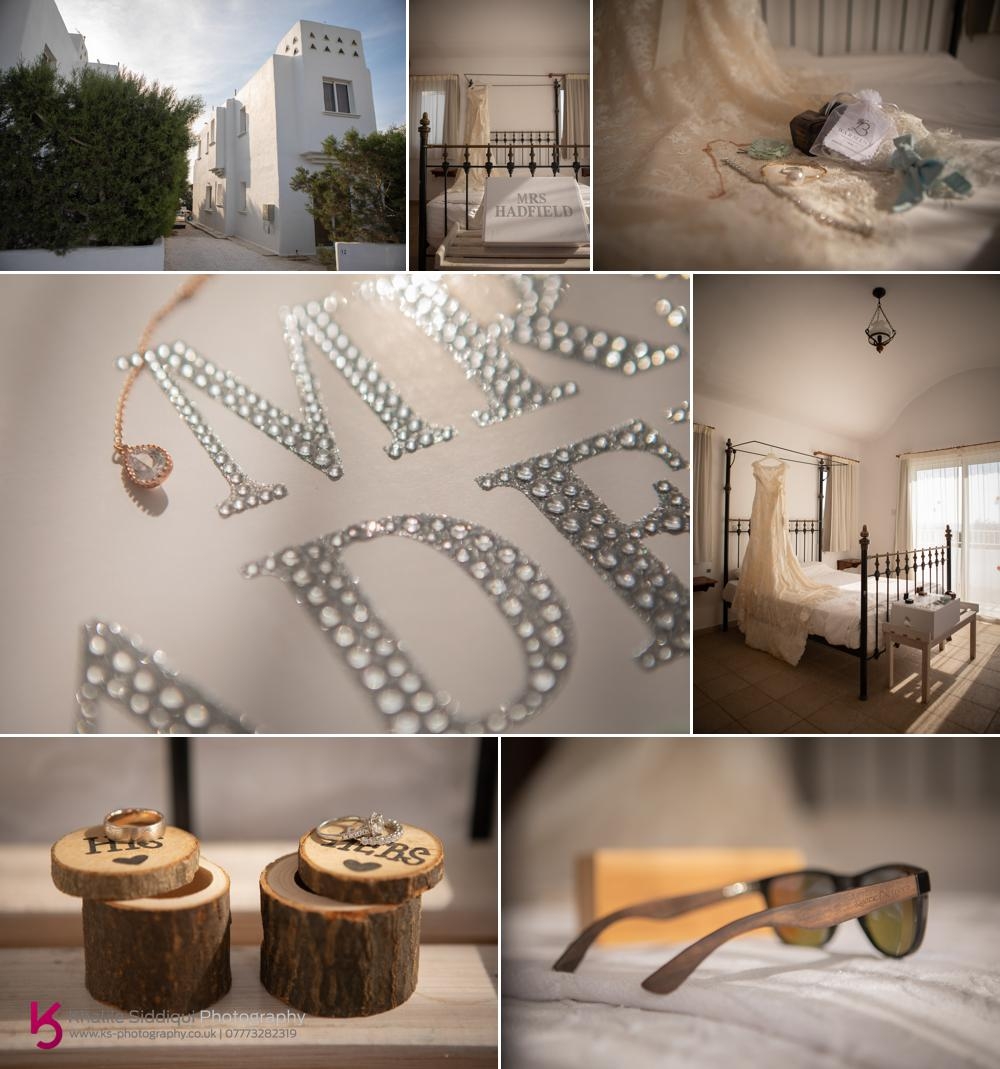 Speaking of photo session, when I first met with Sophie and Colin they said that they didn't want any posed or interactive photos at all, wanting everything to be natural because they didn't feel comfortable in front of the camera. To which I responded that this was fine and I was happy to do it but I think that they were missing a trick not getting the best out of me and my skills. For my superpower is people skills and these were to be their forever photos that would document one of the best days in their lives, with all the little fractions within it coming together for this one special moment. So why leave things to chance and hope for the best that they'd happen to be in the best possible light and position? They should not judge me against other photographers people skills (or lack of) that they've met in the past, and that they should let me give gentle guidance when needed to get them and their guests looking their best and draw out their characters and personalities. To which they said that they trusted me :0)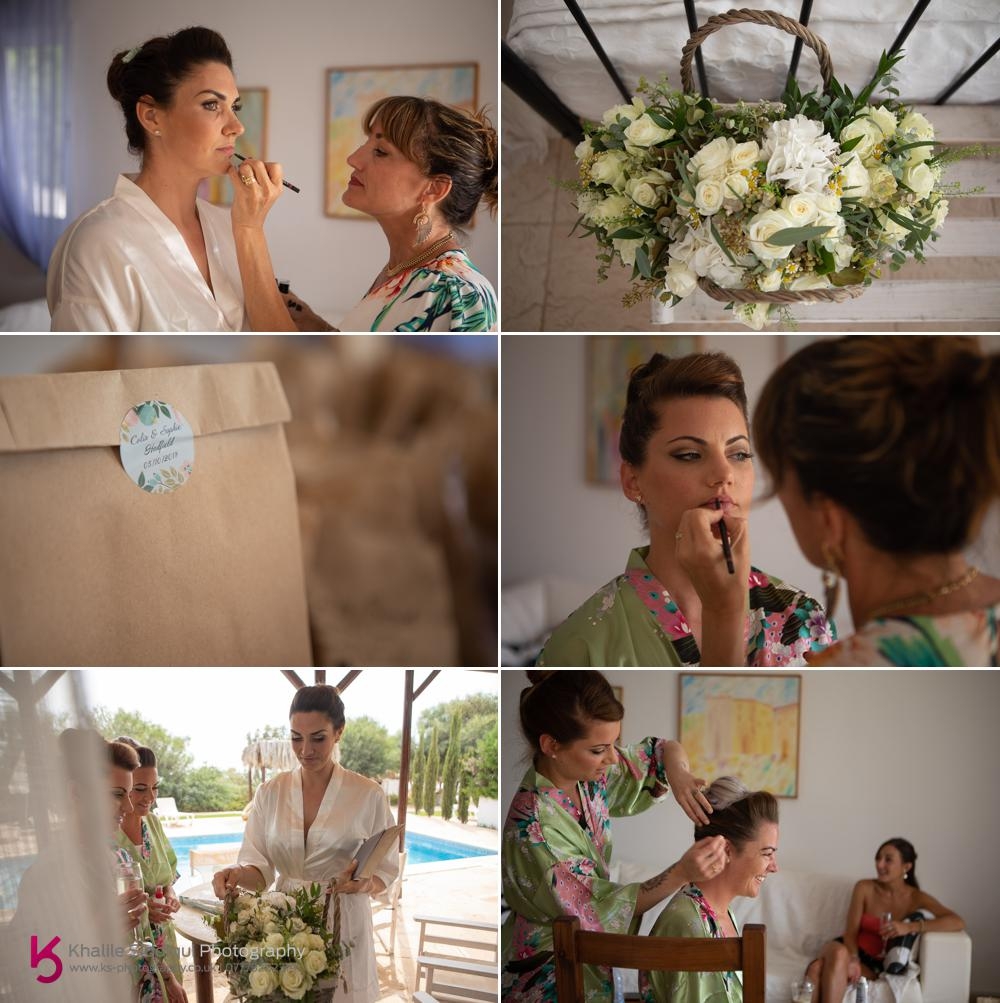 Unsurprisingly Sophie brought her wedding dress out with her from Cornwall, buying it from 'The Bridal House of Cornwall' in Truro, but other than that, makeup and photography Sophie and Colin used local suppliers for everything. Trusting the suppliers that Thalassines Villas recommended, such as 'Arocaria' who did Sophie's flowers.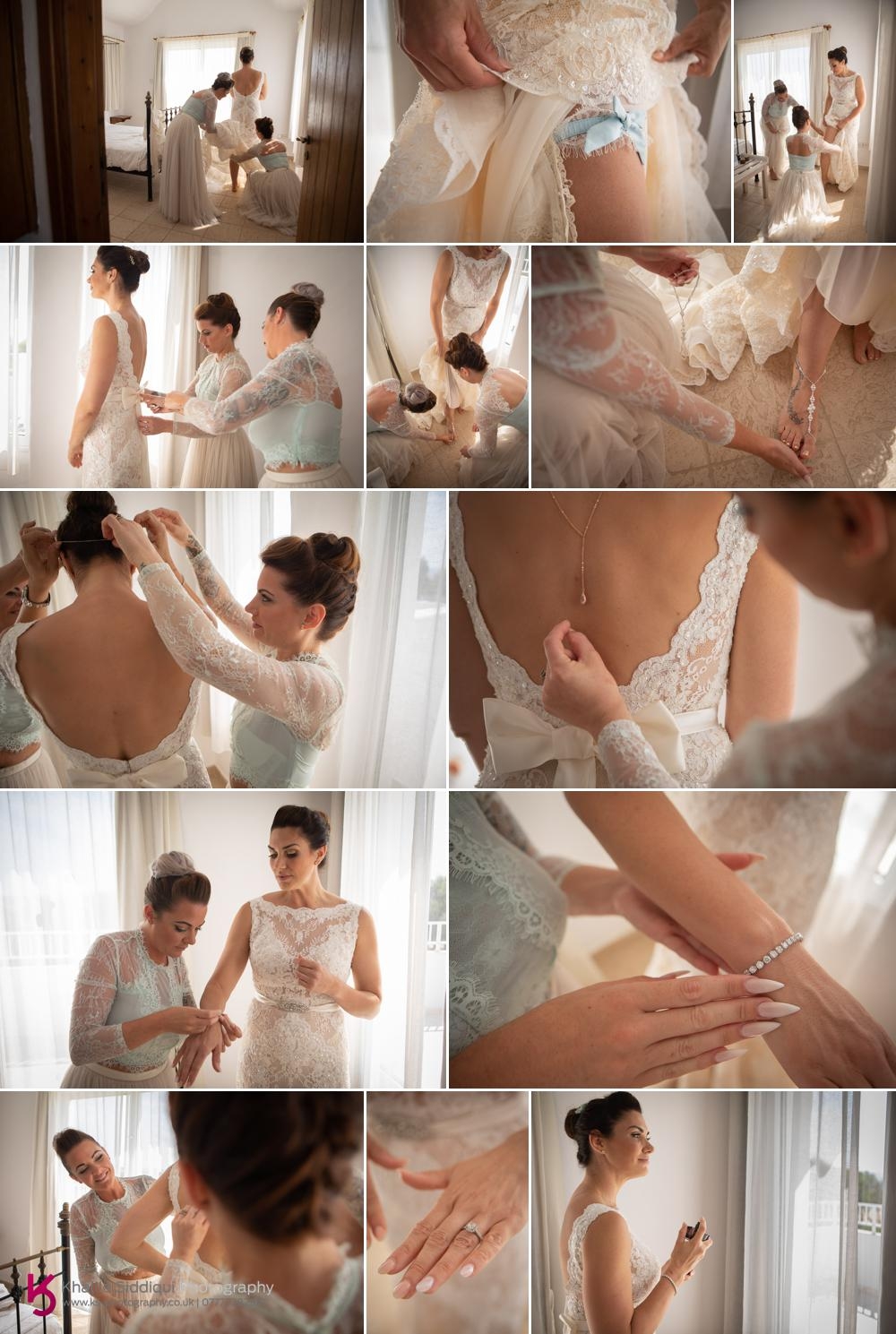 Sophie had help getting ready in her own villa from Holly and Vicky her two bridesmaids, and again the light in her bedroom was SO inspirational.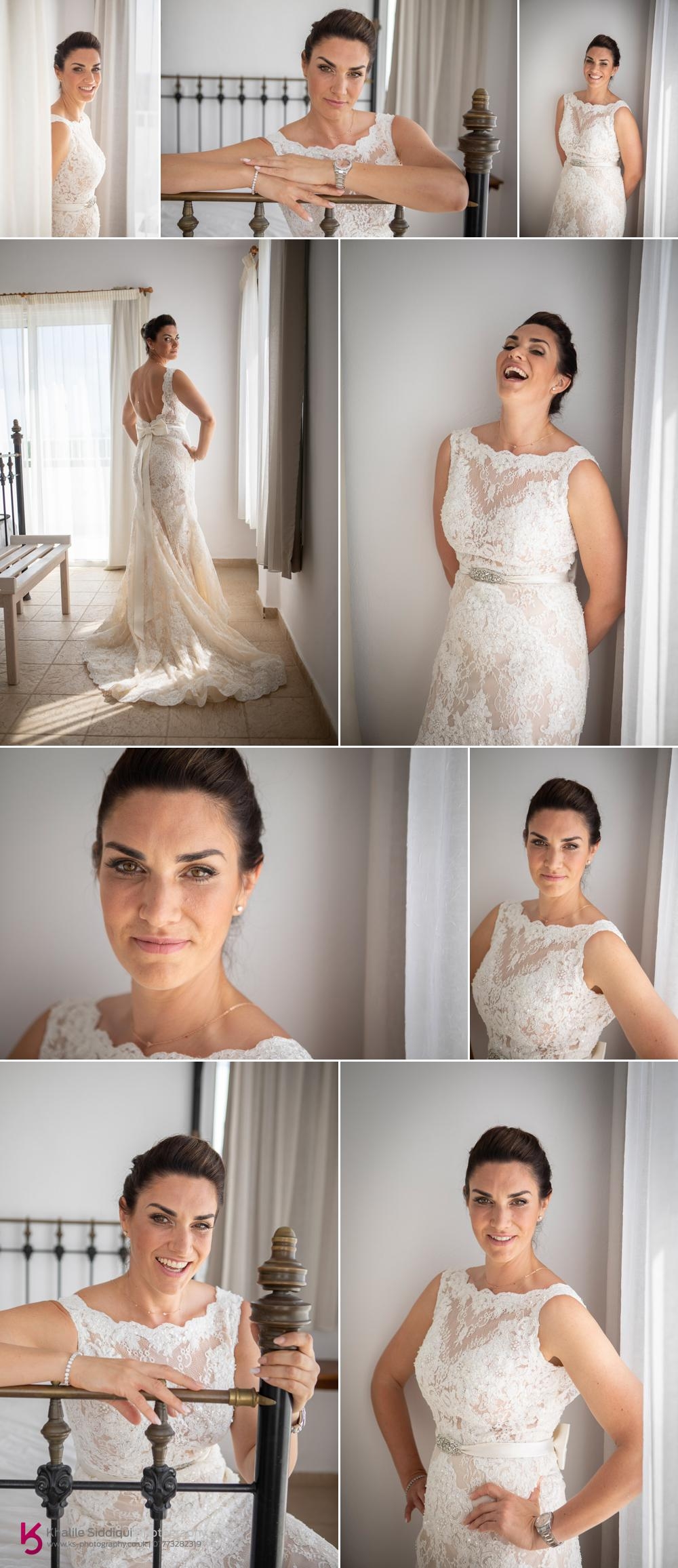 Sophie had some beautiful details for her wedding day, including a white box the size of a small suitcase with her future name encrusted in crystals on it which made for a great prop. Also, being as Sophie and Colin are about the same height and that their whole wedding day was actually on the beach, Sophie decided to do away with traditional shoes and opted for pearl toe ring anklets on her feet.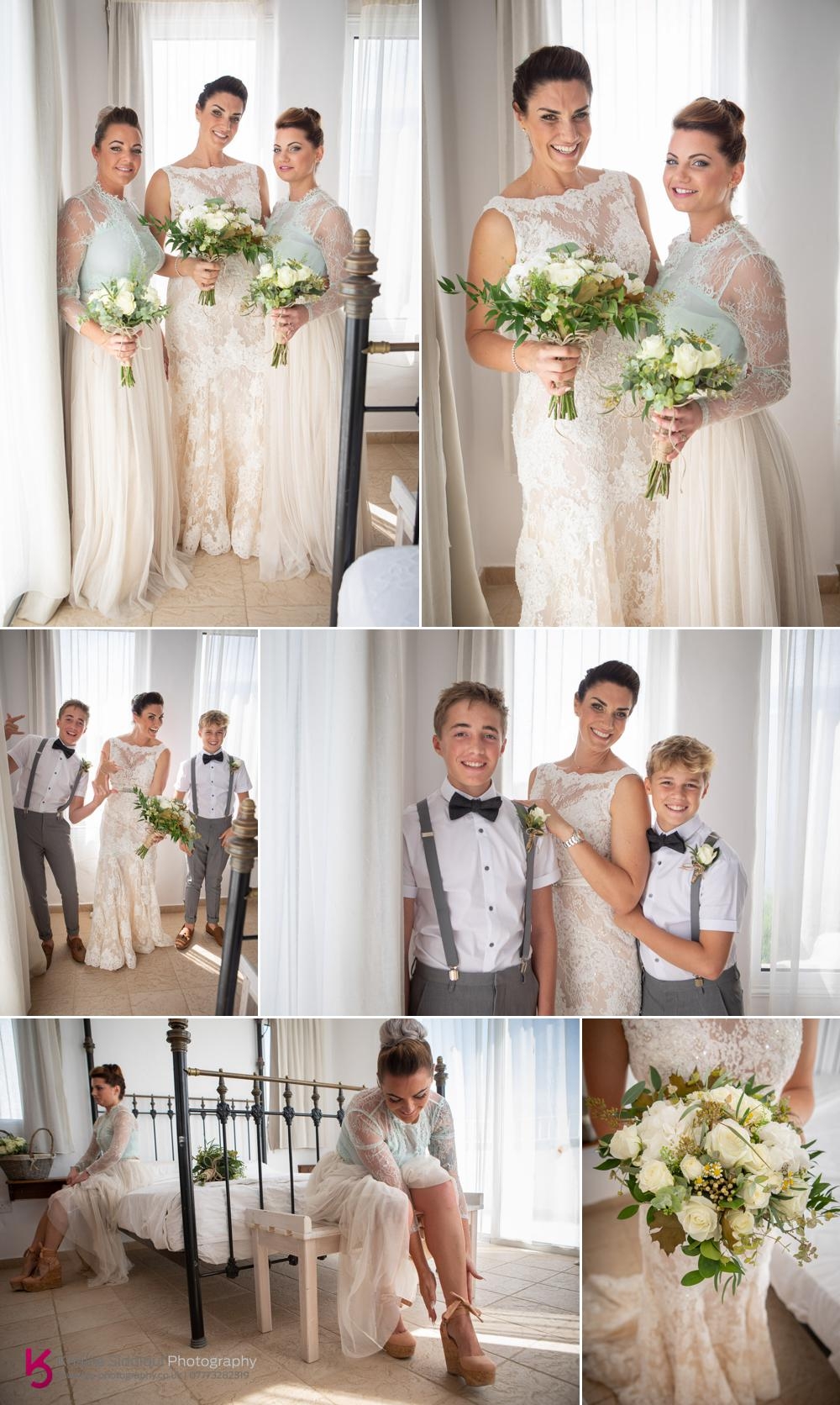 As I mentioned before, the whole day was to take place on the beach as in Cyprus the weather in almost 100% predictable SUNNY! And with the temperatures in the low 30's the guests were only sat moments before Sophie was walked down the aisle by Colins uncle Steve.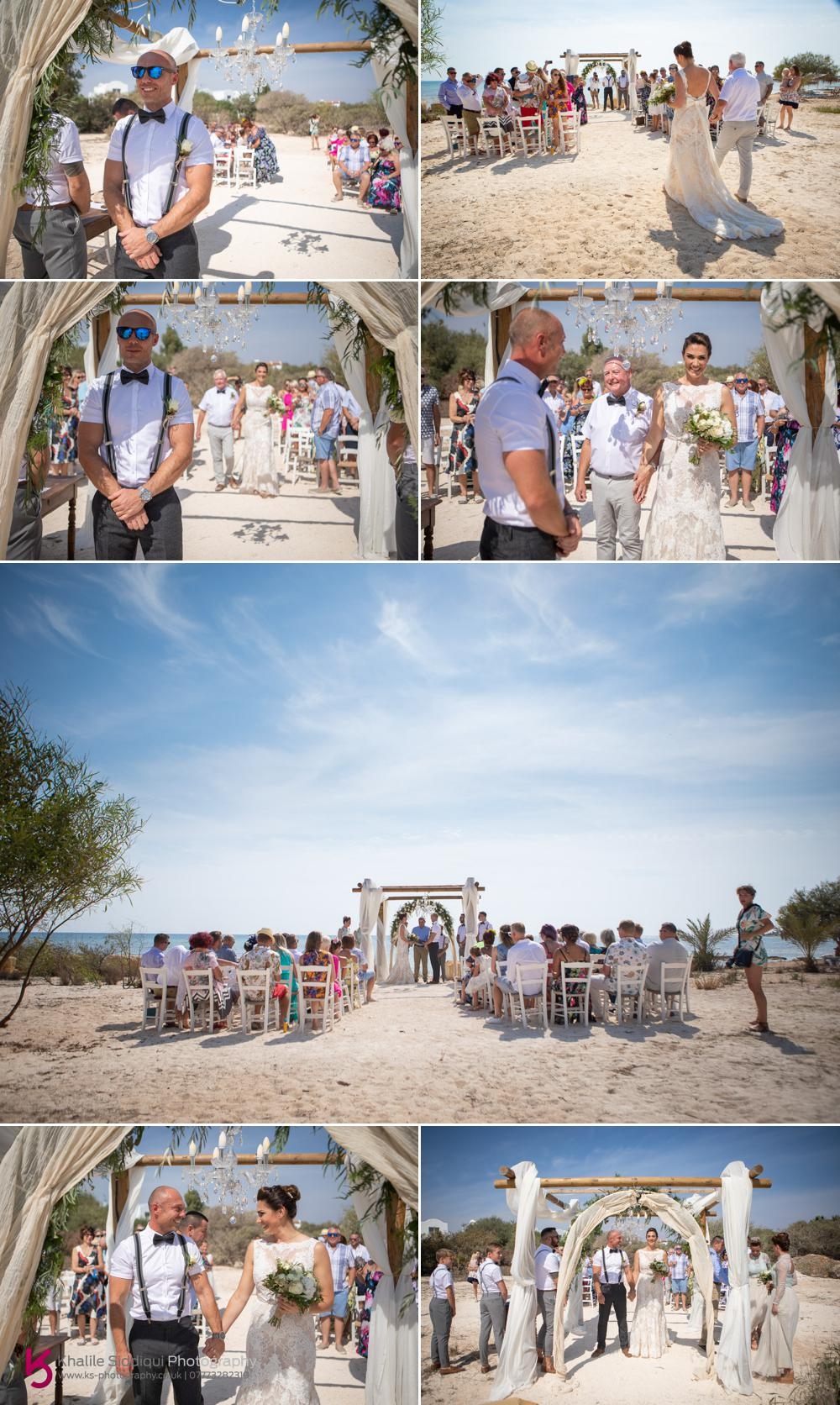 One really funny moment during the ceremony was where poor Colin misheard the line from the charismatic Cypriote registrar where he said "I Colin Paul" instead of 'I Call upon" due to the registrars accent. Bless him!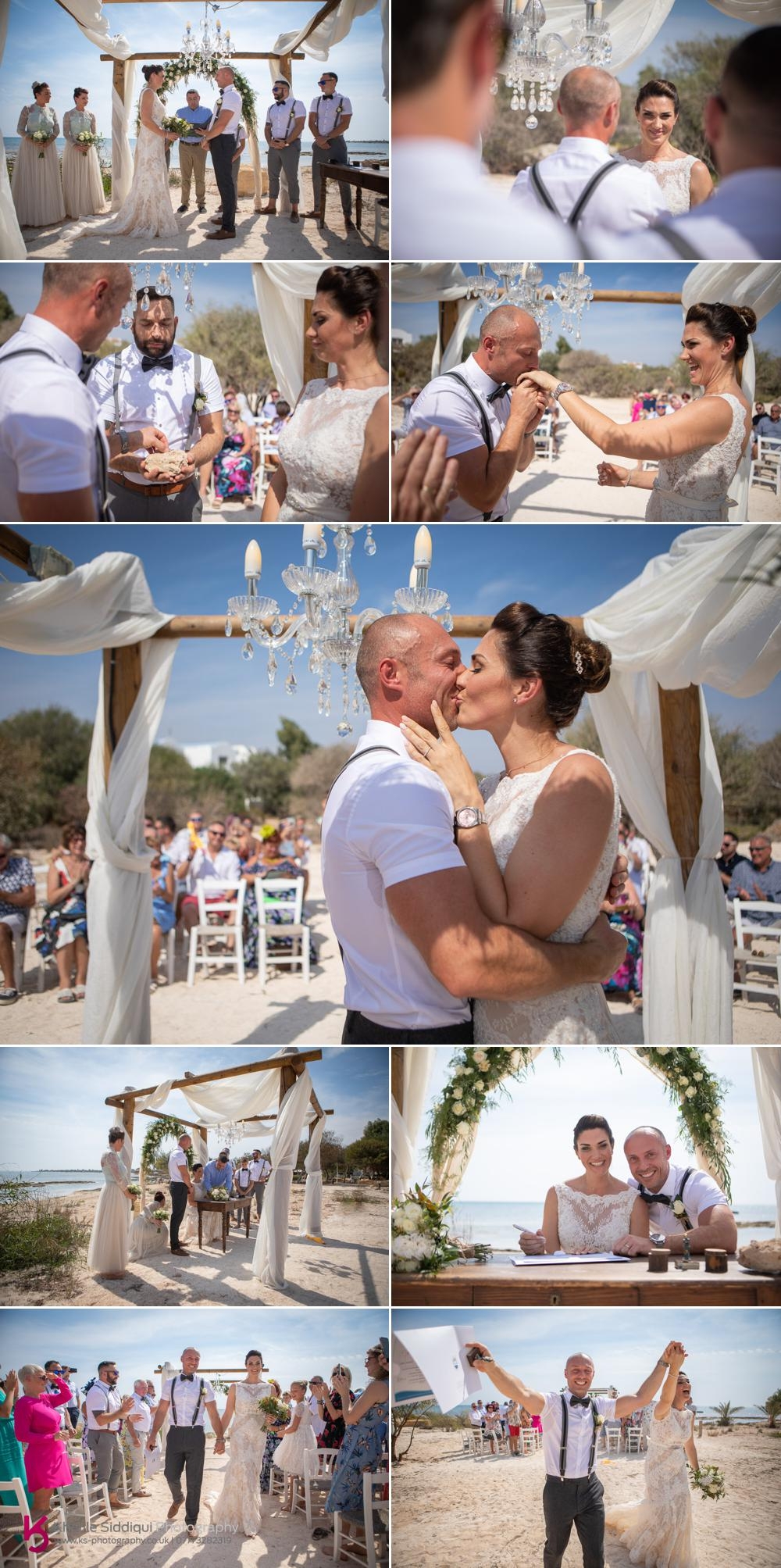 After the ceremony I was going to do their list of group photos under the trees, but as we got a slight cloud cover we did most of the group photos with the sea as a backdrop.




But at the end of the not particularly long list I was almost on my knees with dizziness and dehydration, as I limit what I drink before the ceremony as I don't want to be wanting the loo at the wrong moment, but note to self "Drink more water on destination weddings!"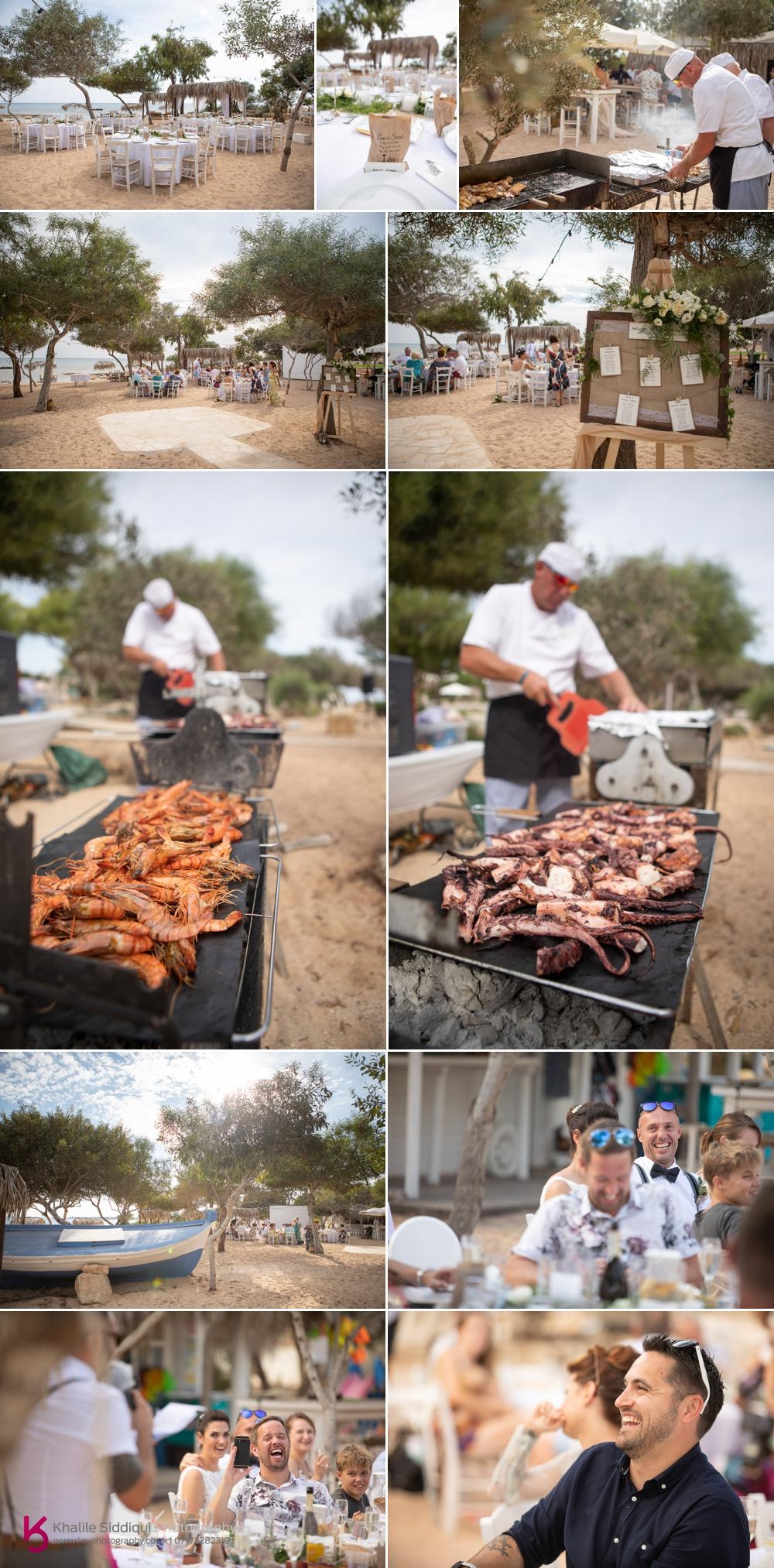 The wedding breakfast was served in the shade of the olive trees, and as Sophie and Colin wanted a really laid back informal day they decided on no set rules, so they let anyone who wanted to say something as a speech could, thinking no one would, instead there were several, all delivered in the same playful spirit of the day.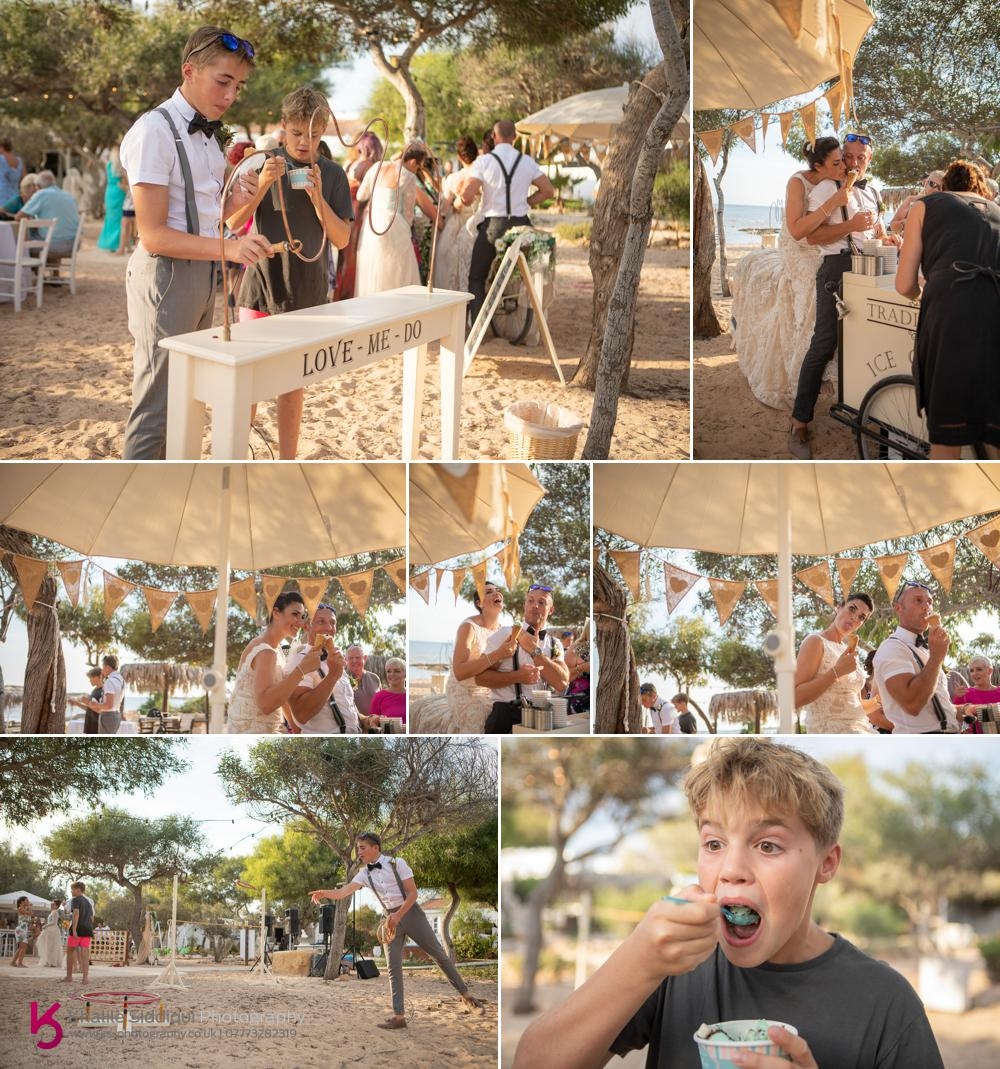 Once the food was finished the fun really began, when a company called 'Love Me Do' who brought loads of beach games to occupy the spirited guests with, such as an ice cream trike, quoits, connect four, Jenga and limbo dancing (which turned into a high jump minus the landing mat) to name a few. All this was set to the AWESOME Ibiza party style soundtrack supplied by DJ Dan James.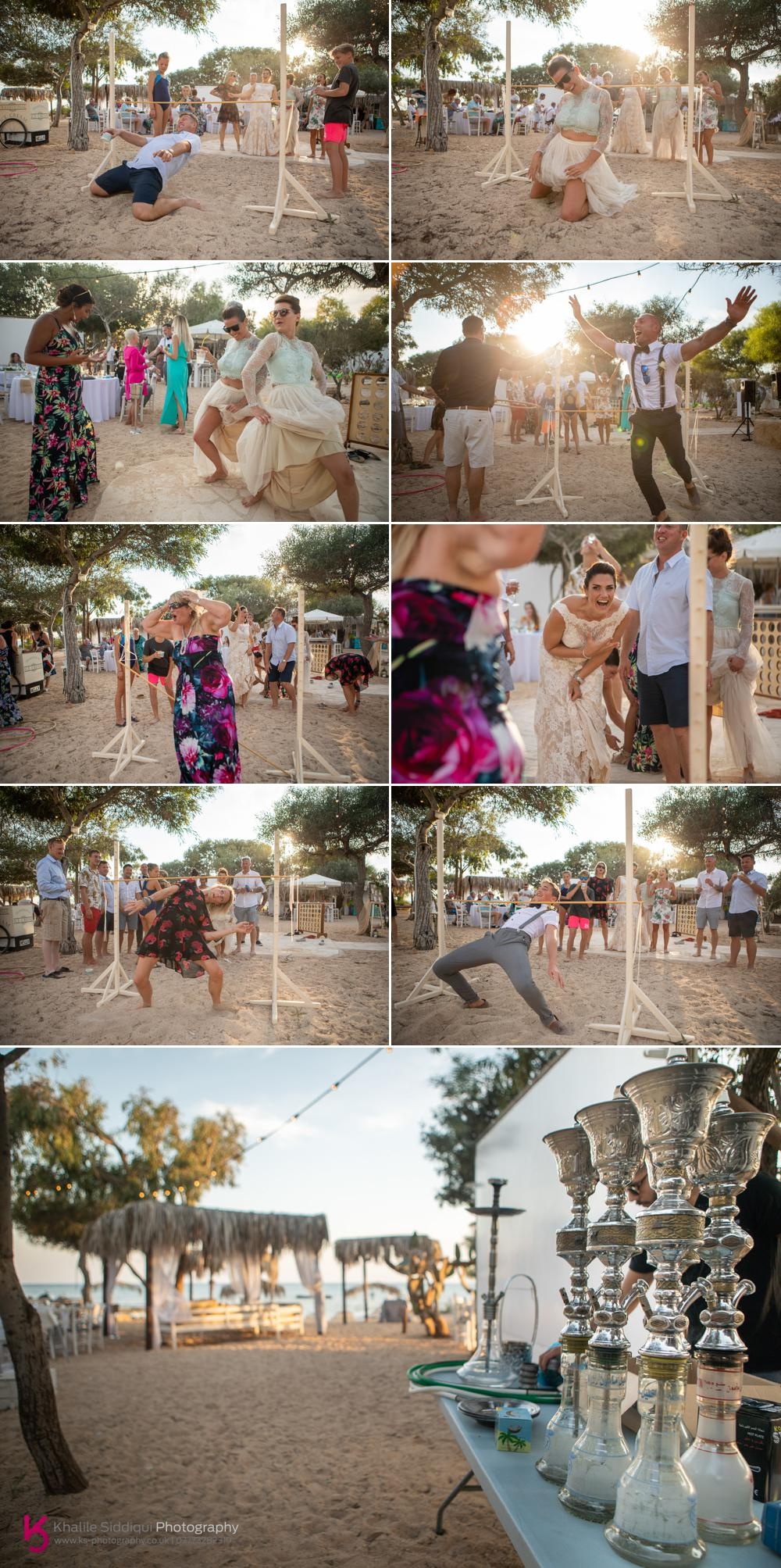 Another little surprise for the evening were these Hookah pipes or Shisha as they call them in Cyprus.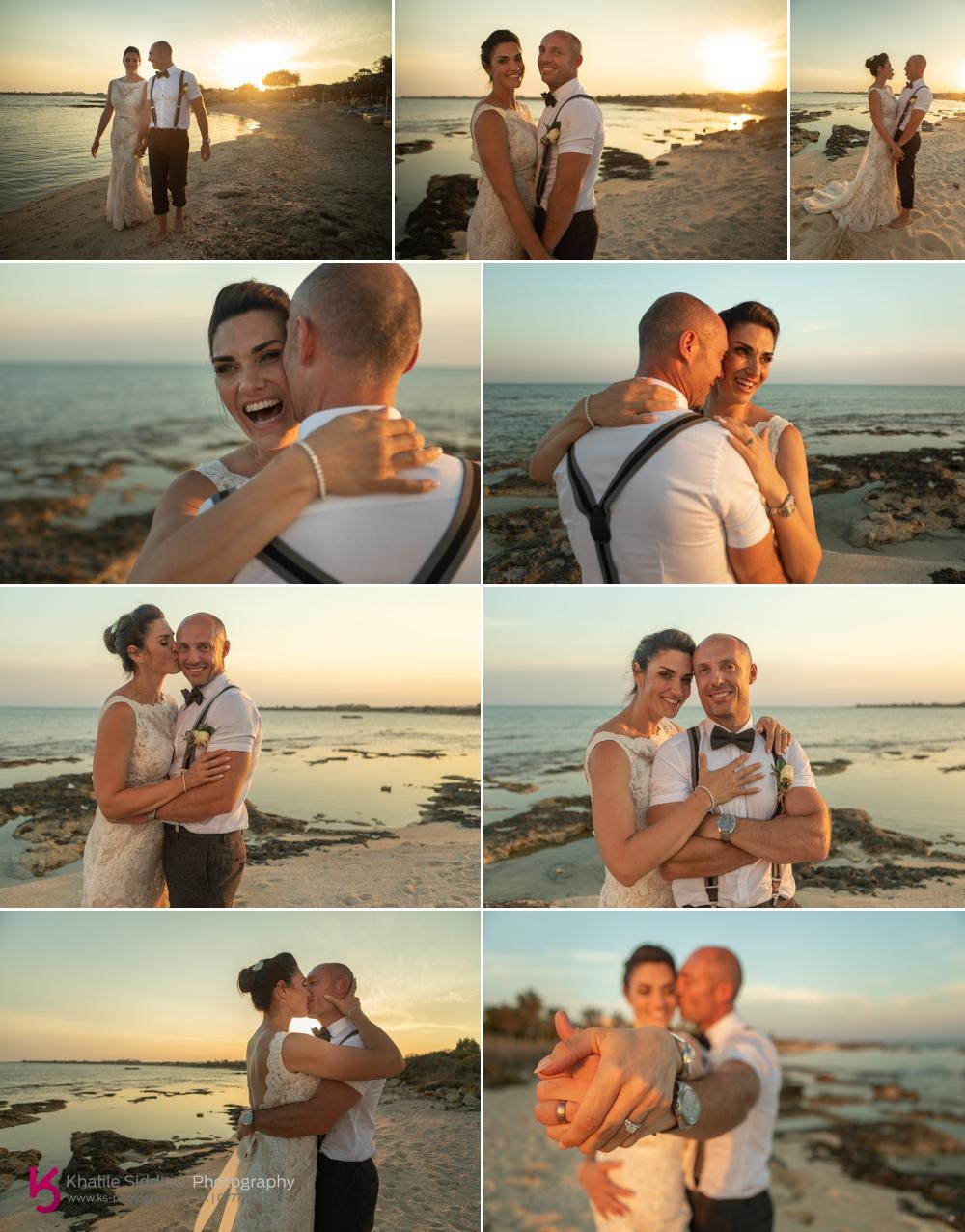 In the last five minutes before the sun goes down at Thalassines everything goes a golden orange, so we timed Sophie's makeup change just before this so we could make the most of this special moment for some couple shots. And then the second to last little surprise arrived, this amazing little guy with a sax turned up called 'Moditisax by Giannos' so I pulled him over as a prop for our final couple shots before letting him do his thing.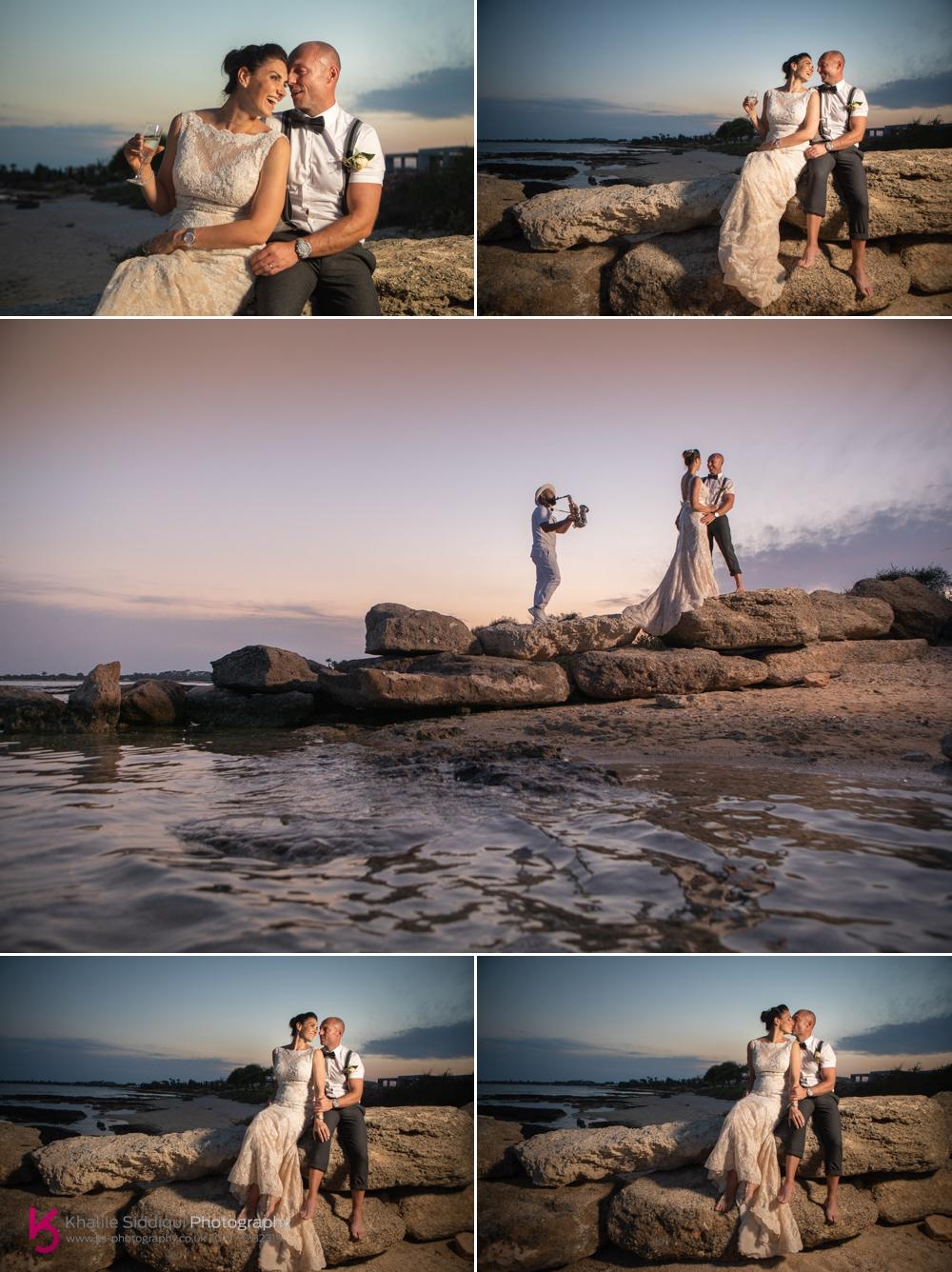 Things kicked off with Giannos doing a set playing along to some chilled party island tunes before DJ Dan took back over. Once things got dark things really did turn into a proper beach party, where I saw sights that really did make me blush (thanks Holly), ending up with a grand finale of a firework display.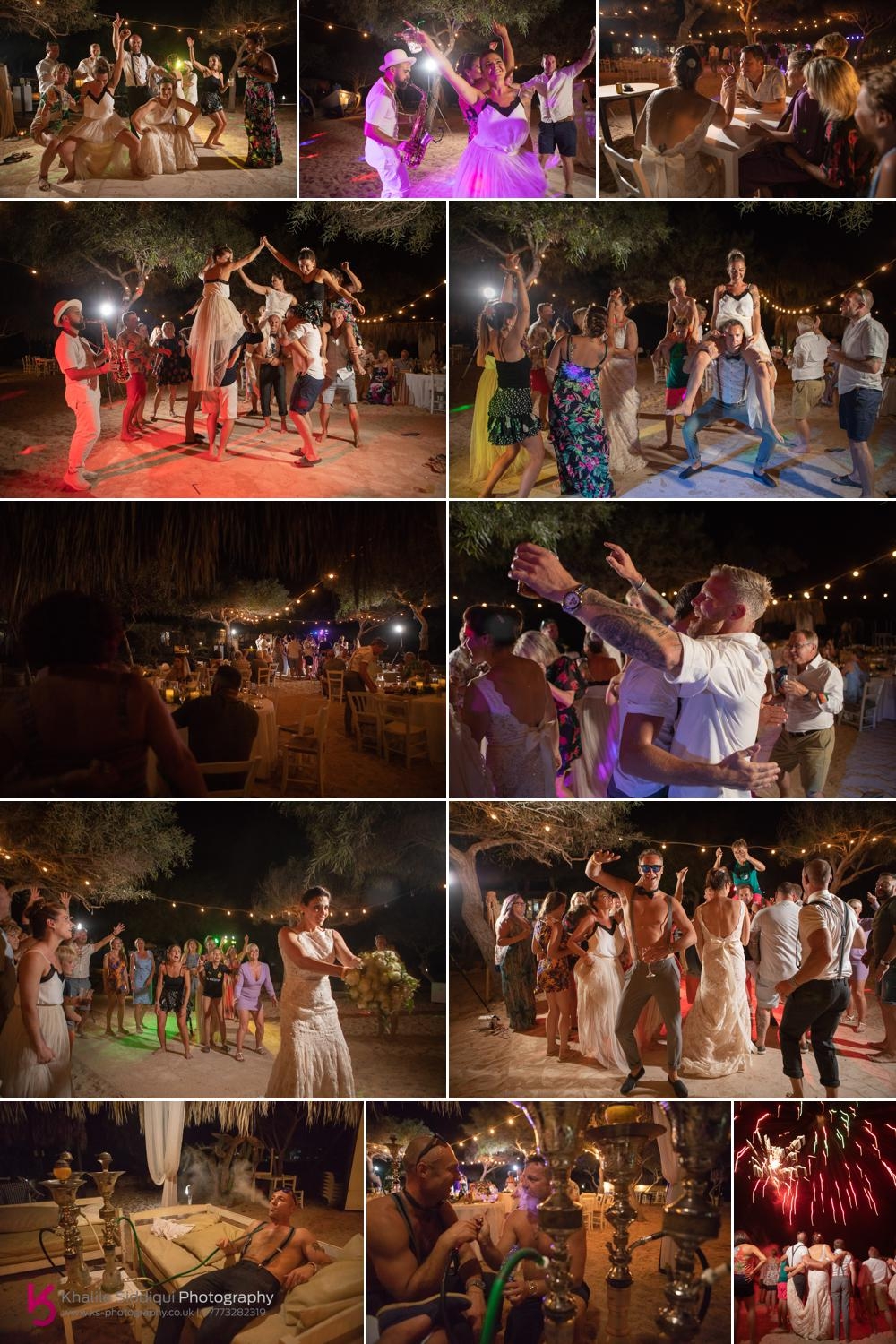 Dearest Sophie and Colin, thank you SO much for taking us along on your crazy Cypriot beach party of a wedding adventure and helping me fulfil a dream. I hope you're pleased with the results and that you agree that a little input from the right photographer isn't a bad thing. :0)

If you're planning your own wedding, be it big or small, home or away, please do check out our main weddings page for loads of helpful information to consider when booking your wedding photographer and do get in touch.

Lots of love

K&T x

Suppliers:

Venue: Thalassines Villas, Aiya Napa Cyprus
Imagery: Khalile Siddiqui Photography
Makeup: Tamsyn Siddiqui makeup Artist and Beauty Stylist
Dress: Bridal House of Cornwall
Flowers: Arocaria of Cyprus
Saxophonist: Moditisax by Giannos
Club DJ: Dan James
Hair: Bridesmaid Holly